"ChatGPT is at capacity right now." So I guess I'll have to write the introduction myself after all. Industries have been stirred up with Ai technologies, and not since ChatGPT. Germany is becoming a hub for cutting-edge AI startups, with innovative companies pushing the boundaries of what's possible with artificial intelligence. From healthcare and mobility to inspections and energy, these startups are revolutionizing industries and solving complex problems with AI technology. In this article, we take a look at 10 of the most promising AI startups hailing from Germany.
THese are the TOP 10 GERMAn AI-STARTUPS to watch in 2023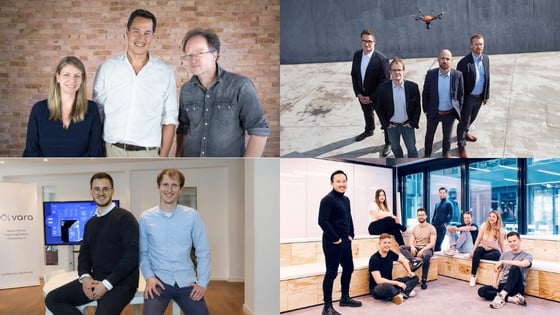 1 SpinnCloud Systems | The human brain on a mini chip
SpiNNcloud Systems, a member of the 14th SpinLab startup class, is a hard-tech spinoff of the Chair of Highly Parallel VLSI Systems and Neuro-Microelectronics at Dresden University of Technology. SpiNNcloud is a novel high-performance computing (HPC) platform that can perform AI computations in real-time and on a large scale. This is an essential requirement for the third wave of AI applications that can support future cognitive industries, societies and cities. The human brain behind the AI startup is Prof. Dr.-Ing. habil. Christian Mayr, professor of electrical engineering at TU Dresden. The AI startup aims to build the SpiNNaker2 at TU Dresden. The first SpiNNaker was developed by the University of Manchester. Following on from this, they want to use the SpiNNaker for research in the areas of Industry 4.0, tactile internet and automotive artificial intelligence.
2 we-do.ai | Germany's first intelligent voice chatbot for the gastronomy industry
Founded in 2017 and part of the SpinLab accelerator program in 2020, the AI startup we-do.ai offers AI software solutions such as chatbots, automatic text recognition, AI prediction tools, automatic text generation or image recognition. Restaurant voice chatbot "Foodcall" is one of the software products. Launched at the beginning of 2022, the founders Dr. Sebastian Hecker and André Naumann created Germany's first intelligent voice chatbot for the gastronomy industry! It can take orders, reservations or other requests from callers in one fluid conversation and has been successfully distributed both in-house and via cooperation partners to individual restaurants as well as restaurant chains. Online magazine WirtschaftsWoche even sees the chatbot as a possible partial solution to the staff shortage in the gastronomy industry. Since 2018, SpinLab partner Technologiegründerfonds Sachsen (TGFS) has been supporting we.do-ai as a financing partner and has increased its investment in the AI startup from Leipzig in a follow-up funding.
3 NAECO Blue | the digital solution for the energy transition / a glimpse into the (energy) future
A look into the energy future without a crystal ball? NAECO Blue makes it possible and offers a digital solution for the energy transition. The startup from Bad Schwartau engages artificial intelligence to create feed-in forecasts for energy generation from sun and wind and thus ensures a reliable, efficient and clean energy supply from renewable sources. Founded in 2017, NAECO Blue helps to make the volatility of these unlimited energy sources controllable with the help of conservation forecasts and to minimize costs caused by forecast deviations. The energy is procured at the right time. In addition, the intelligent algorithm helps anticipate market developments to gain a competitive advantage. The two founders, Felix Ollech and Daniel Dunaevski, were also part of the SpinLab accelerator program in 2021.
4 ada health | medical information and services for everyone
Admittedly, we've all lost sleep at one point or another because Doctor Google either declared us pregnant or we most likely had a tapeworm, right? Enough of that! This is where Ada's artificial intelligence steps in. Started in 2011, today about 50 experts are steadily working to enable the vision of personalized healthcare for all. Ada offers an AI-based symptom analysis app that provides treatment recommendations in seven languages and, most importantly, a huge database of medical information. Of course, this does not replace a visit to a doctor, but it can promote self-awareness of one's own body and health. This especially helps people in developing countries who do not have quick and direct access to medical advice. The Berlin based startup boasts over 12 million users, nearly 30 million symptom analyses, the trust of big-name partners like Pfizer and Bayer and has just recently, in December 2022, received the EU-MDR Certification for AI-Powered Symptom Assessment Platform.
5 Aivy | decoding the career DNA
With Aivy, SpinLumni of Class 11, you can find your own vocation using artificial intelligence. The SaaS offers award-winning game-based assessments based on psychological aptitude diagnostics. Founded in 2020, the tech startup helps HR departments avoid 30% of bad hires before the first interview and pre-select 5x better. Applicants thus find their individual strengths and potential and can be matched directly with suitable jobs. Diagnostic performance scores are collected that do not include a person's age, gender, or social or ethnic background. This is intended to overcome unconscious bias, build more diverse teams and promote equal opportunity in the workplace. After a deal with the investors of "Die Höhle der Löwen" failed, the team was able to raise seed financing of more than 1 million euros in August 2022. Investors included Andreas Schmitz (former labor director of Roche Germany) and Matthias Helfrich (Business Angel of the Year 2021).
6 ai-omatic | the revolutionary solution for predictive maintenance
Avoid unplanned machine downtime, reduce maintenance effort and increase plant availability? No problem with ai-omatic. The startup offers a software-based maintenance assistant that evaluates and visualizes sensor data from machines and thus detects unfavorable machine behavior before failures or problems can occur. Founded in 2020 by Dario Ramming, Felix Kraft and Lena Weirauch, the digital maintenance assistant can be used in many industries and application areas due to the high scalability of the algorithm.
7 twaice | the battery supercycle for a greener future
AI startup Twaice has developed a holistic analysis platform for batteries based on in-depth battery knowledge and using artificial intelligence to grant predictability and transparency throughout the energy storage lifecycle including the manufacturing, its use up to the recycling of the battery. Twaice's mission is to increase the safety, efficiency, longevity and thus sustainability of batteries. Customers are primarily from the fleet, automotive (for instance Audi) and energy industries. The startup from Munich has already grown to over 120 employees, won Germany's 2020 digital prize" The Spark'' and was named European Cleantech Company of the Year 2021. 2022, Twaice recorded a $30 million Series B funding raise with U.S. investor Coatue.
8 VAra | breast cancer screenings are a human right
The deadliest type of cancer for women, with approximately 627,000 deaths worldwide in 2020, is breast cancer, although there is a 98% chance of survival with early detection. However, if the cancer is only discovered in the 3rd or 4th stage, as is often the case with people from (developing) countries where the health system does not support breast cancer screening, the chance of survival drops drastically. Vara takes on that fight with breast cancer. The Femtech startup combines AI with the expertise of screening radiologists to make early detection affordable and easily accessible. The AI-based software platform compensates for the lack of enough radiologists and reduces the workload and human subjectivity associated with reading mammography results. In 2022, they reached an €11M Series A funding round, partnering, for example, with EQT Foundation and Med 360°.
9 voize | the voice of the future in the care sector
The digital nursing assistant form voize promises relief through a central data collection point without tiresome paperwork, which leads to more time for the patient and faster and better documentation of nursing reports. Also, vital signs can be conveniently recorded during nursing and routed to the documentation system used. Patient history, medication plans and wound progression with photos are also collected in the app.
10 flyNex | the ai high flyer
FlyNex offers a cutting-edge software solution for data generation using unmanned aerial systems, scanners, and satellites for infrastructure operation, maintenance, and repair. Companies in the construction, real estate, energy, and aviation industries benefit from FlyNex's solution and can save up to 90% of their inspection costs. After participating in our accelerator program, the startup opened a location in Leipzig, in addition to their existing offices in Hamburg and San Francisco. They have raised a total of 6 million euros in funding to date. Through partnerships with EnviaM and LEAG, FlyNex has set up successful pilot projects, including training drone pilots at Envia M for grid inspections.


Want to scale your startup? We got you! Smart City, E-health and energy are the focus topics of our award-winning 100% free accelerator program. Subscribe to our newsletter to be the first to hear from the next application deadline.