At SpinLab, we always act in the interests of the environment, society and our employees. We are committed to driving social change and sustainable development in order to make an effective contribution to a future worth living.
Accelerating innovation for positive impact
As a purpose-led and values-driven company, we believe that economic growth and environmental sustainability can go hand in hand. Startups are an essential driver for a climate-neutral economy. With our accelerator program, we are fostering technological innovation and sustainable transformation. In 2017 we were selected by the Federal Ministry for Economic Affairs and Climate Action as Smart Infrastructure Hub - designing the future of our society through innovation in energy, smart city and e-health. A few years later, we expanded and opened a new location in Hannover - the center of the agriculture and food industry in Germany. With the innovation hub RootCamp our mission is to disrupt the agrifood value chain. Sustainability in all its dimensions is a core value of our company. All this is reflected in our vision: We are fueled by our aspiration of becoming the prime innovation ecosystem for sustainability in Europe. Together with our team, partners, startups and customers, we combine our expertise to tackle the tough challenges of our time. Our CSR initiatives contribute to the most important global policy initiative of this era, the UN 2030 Agenda for Sustainable Development. In the GIF animation below you can have an overview of our CRS measures. 👇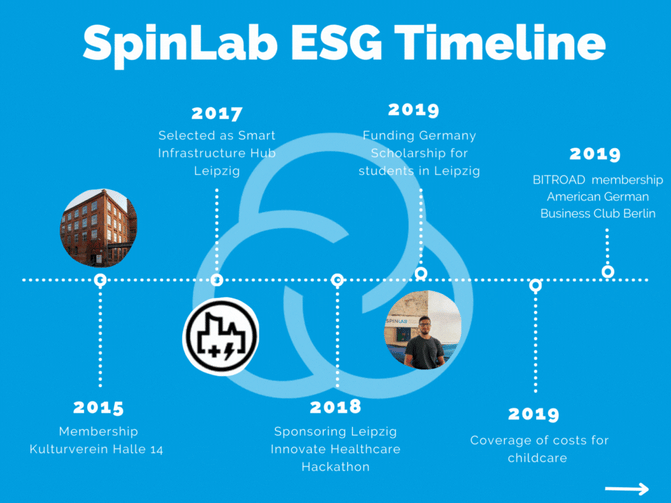 For the sake of the environment
SpinLab has a very clear vision towards sustainability. Not only do we want to be climate neutral, but also contribute with our choice of startups to address climate issues. This means that we take a close look at what the startups offer as a solution to make our world more sustainable. Being a role model for our teams, we are certified as climate neutral and compensate for anything we need to do to keep business running – always with the awareness of what we could cut off. This means that we reduce all unnecessary travels, compensate for our flights, using smart thermostatic heads, which allow energy savings of up to 20%, visiting climate strikes, having a minimal printing policy or using time switches for our work space. In addition we offer all employees a job ticket for use on public transport as well as a job bike. This year, we are participating together with our startups in the Stadtradeln program for more bicycle promotion, climate protection and more quality of life in the communities.
We take climate for action
SpinLab's founder and CEO, Eric Weber joined the initiative "Leaders for Climate Actions" - a global community of entrepreneurs, united by the will to counter the climate crisis through their own actions. Via our measures, we have compensated for our entire CO2 consumption of the previous year in 2021. With our Alumni Planted, our employees can offset their CO2 and we also plant trees for each startup referral. In 2022 we saved 160.000 tons CO2. To continue this development, we want to work further on our sustainability strategy, which is aimed at embedding sustainability in even more of our company's processes.
Promoting diversity
SpinLab is engaged in being an action-driven leader in making the startup world more diverse. In 2020, we founded a Diversity AG at SpinLab. A successful result of the Diversity AG is the development and realization of the Leipzig Summer School for diverse Startups- a program explicitly for diverse teams. Our mission is to make entrepreneurship more accessible and inclusive. Moreover we are part of the EU initiative womenture, which aims to create an international support program for female founders. Diversity in all facets, be it origin, educational background, sexual orientation or gender are key for more innovation and success as well as sustainable growth. The future should be shaped from more than one perspective.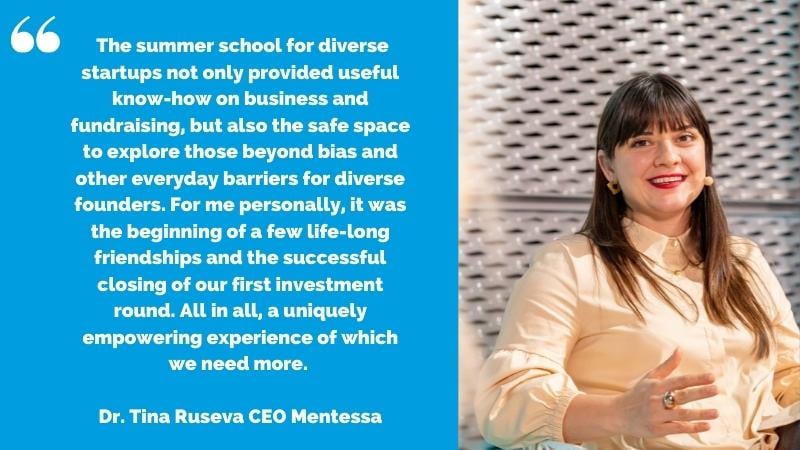 That's not where our efforts stop: with our participation in Girls Day, we introduce young girls to the exciting startup world. Our motto: "Teach them young, today student, tomorrow Girl Boss." Moreover we support university students with scholarships. In this way, we help to ensure that young people can develop their talents without hindrance. Scholarship students can participate in all workshops, events like the HHL SpinLab Investors Day and get access to our broad network to gather valuable contacts.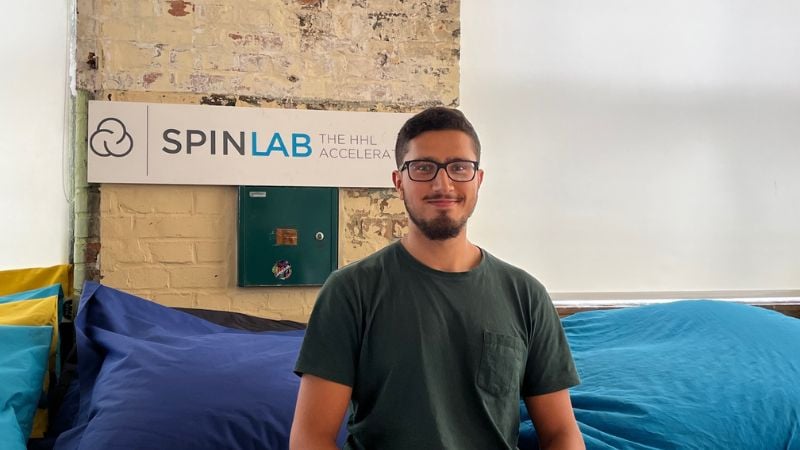 Through the scholarship Ahmad Dawar Hakimi was able to gain a deep insight and contacts into the startup world.
Deutschlandstipendium Alumni Ahmad Dawar Hakimi about his time in Leipzig: "SpinLab - The HHL Accelerator gave me a deep dive into the startup scene, a world I had never come in touch with before. I was overwhelmed by how supportive everyone was. The coreteam, startups and mentors not only shared their knowledge about the startup life with me but also gave me valuable advice for my career. Equipped with all this knowledge, I cannot wait to use it in hopefully a startup of my own. I'm genuinely grateful to be part of the SpinLab network."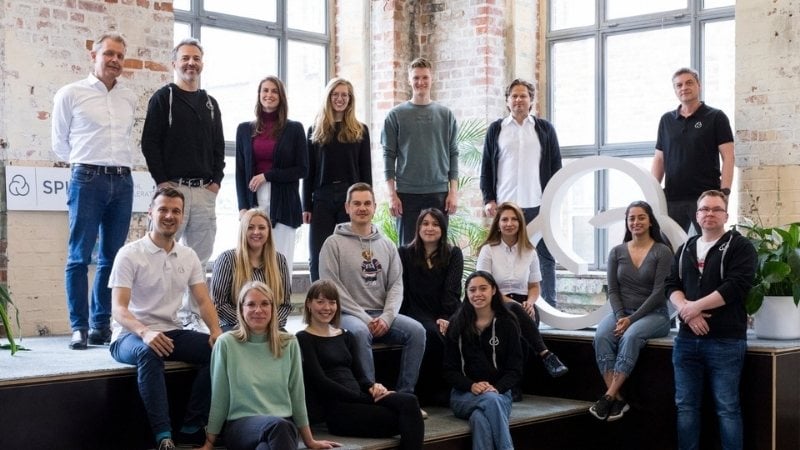 The SpinLab coreteam grows each year with new employees joining our mission.
Society is diverse, so are we. The SpinLab group is made up of people of different nationalities, genders, generations and cultures. We want to encourage this diversity and benefit from it. Working in a diverse and inclusive environment that respects and values differences is what we believe in and are committed to creating. Every team member brings different experiences and perspectives. This enables us to realize our vision.
Social Commitment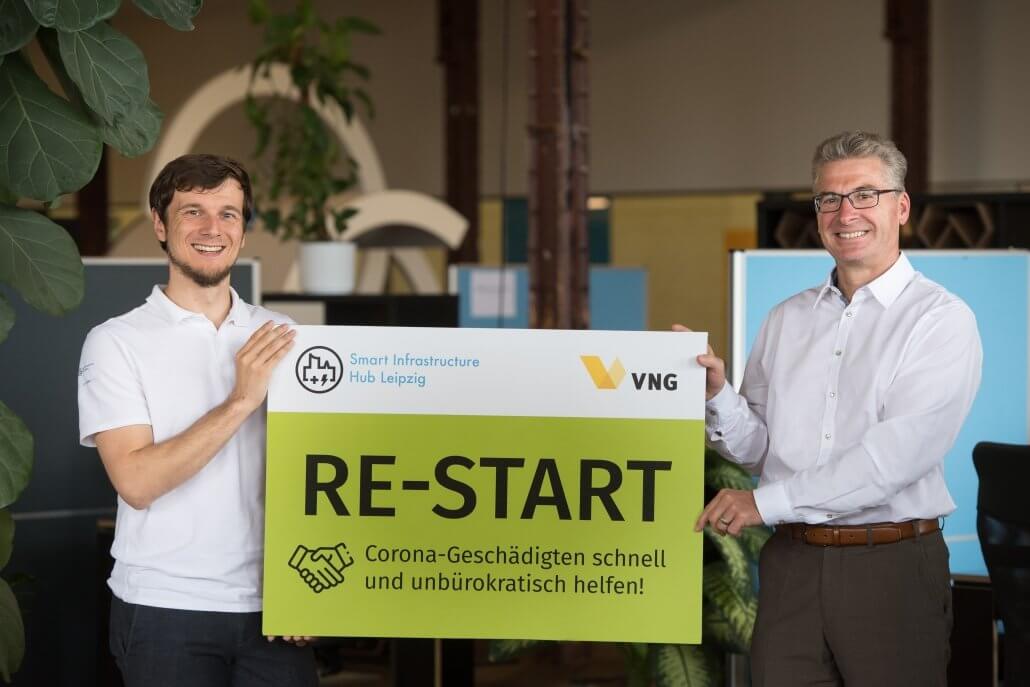 Apart from the ecological considerations, we also have to look at the societal aspects. This provides a wholesome CSR activity. The global corona pandemic has confronted our society with unprecedented challenges. Many startups, small businesses and initiatives were faced with immense burdens and had to fear for their existence. Hence, we felt obliged to take over responsibility in these difficult times. Together with our innovation partner VNG, we launched the RE-START campaign. Those affected by the Corona crisis were provided with rapid and unbureaucratic financial support up to 4000€. In addition to sponsoring projects and event formats such as the students organized Accelerate@HHL conference, we also provided financial support, to various aid organizations e.g. Frauenhaus Leipzig, or crowdfunding action or Kinderhospiz Bärenherz Leipzig e.V. Beyond that, SpinLab offers its employees the opportunity to use one working day per year for volunteer work. Our former employee Marina, as an example, helped refugees from Ukraine to arrive in Leipzig.
We get more done when we move together
We have set out on this path and will continue to pursue it consistently - together with our entire ecosystem. Looking ahead, we will keep going to scale up our efforts, try out new ideas and make positive changes. As our vision makes clear, we want to further strengthen sustainable innovations beyond Germany.
With numerous regional expertise hubs, the European Union wants to support small and medium-sized enterprises as well as the public sector in their digital transformation. One of these European Digital Innovation Hubs is to be established in Saxony. By providing access to technical expertise and experimentation as well as the possibility to 'test before invest', EDIHs help companies improve business processes, products, or services using digital technologies. The member of the consortium are the Smart Systems Hub, we as Smart Infrastructure Hub Leipzig, the simul⁺ InnovationHub of the Saxon State Ministry for Regional Development and as coordinator the InfAI - Institute for Applied Informatics. This will enable us to leverage our collective knowledge on a European level. One of our biggest plans is to open new locations with a focus on sustainable topics in poorly developed ecosystems in Central and Eastern European countries over the next years.
➡️To stay up to date with our exciting journey, follow us on our social media channels and subscribe to our newsletter.