Recent studies such as the Female Founders Report and German Startup Monitor clearly showed that the startup landscape is mainly white and male. Only 18 % of founders in Germany are women. Just five percent of these female startup founders received more than one million euros in funding, compared to 30 percent of men. Unfortunately, a lot of VC firms seem to be run with a "boys club" mentality, resulting in unconscious biases and systemic inequalities. As part of the 12th edition of the HHL SpinLab Investors Day, Bettine Schmitz (Auxxo), Dagmar Bottenbruch (Segenia), Petra Sokolová (Inven Capital) and Duc Quyen Tran (Dieter von Holtzbrinck Ventures) came together to discuss why more diversity in venture capital is needed. Dr. Tanja Emmerling (Hightech Gründerfonds) presented in her keynote: "Diversity -so what?!" Essentials for your Diversity Playbook: how diversity can be implemented in venture capital
Disclaimer: Diversity is multifaceted. The panel focuses on gender diversity. In this article, when referred to women, cis, trans women and non-binary persons are addressed. The terms "men" and "women '' are used a lot - these are of course averages or vast majorities and cannot be applied to every individual.
Driving Change in Venture Capital
Bettine Schmitz is an absolute believer when it comes to investing in companies co-founded by women. Building on nearly 30 years combined investment and operational experience plus three years of joint angel investing, Bettine Schmitz and Dr. Gesa Miczaika recently launched the Auxxo Female Catalyst Fund. The vision of the fund is to drive equitable representation of women as founders and investors in venture capital. The new Fund invests exclusively in teams with at least one woman, who must hold at least 20 percent of the founders' shares. No investments are made in male-only teams.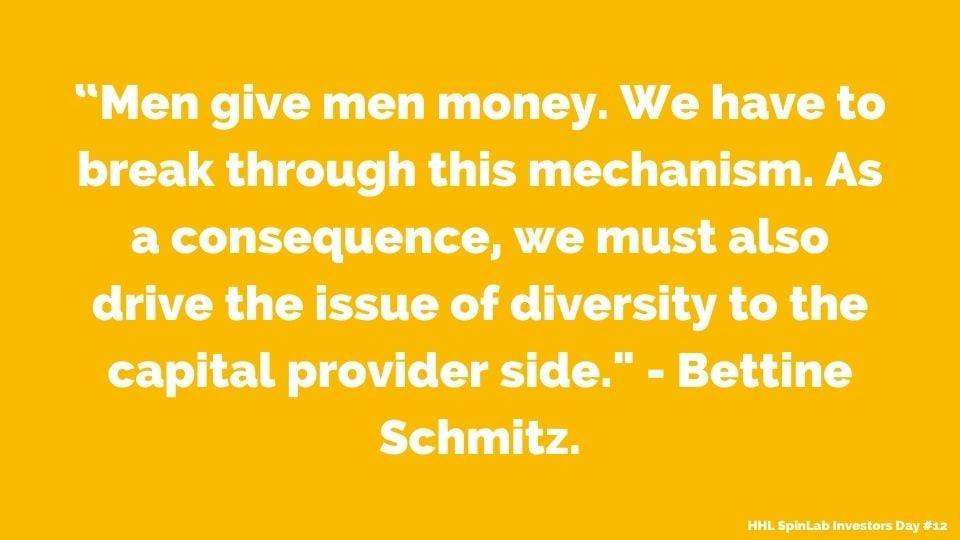 Go beyond what's familiar
Dagmar Bottenbruchs has more than 30 years of experience in VC as well as investment banking and has also invested in startups herself. Through her experience, she noticed the lack of diversity in the industry very early.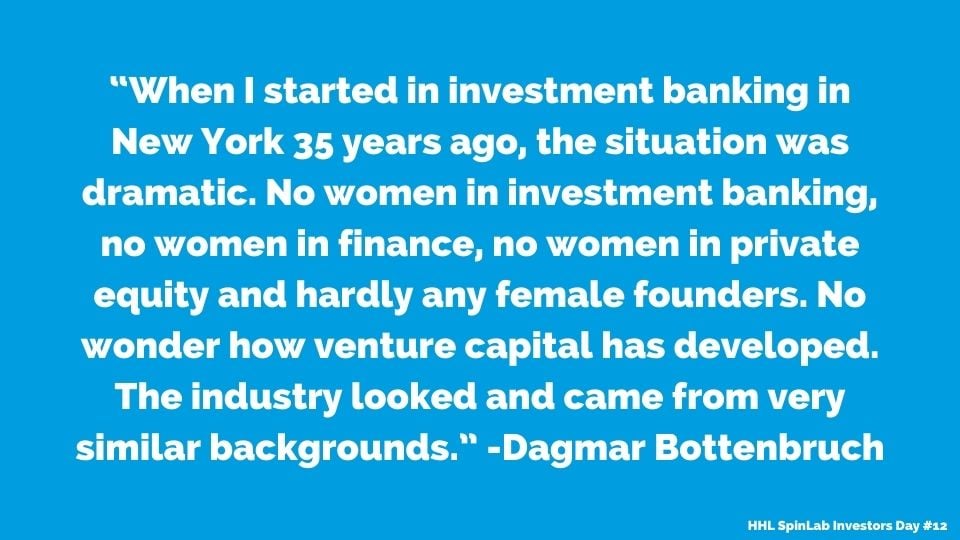 One major barrier to female founders raising venture capital is a persistent lack of female decision-makers at VC firms. Taken as a given that women are not well-represented at senior levels in VC, any job that asks for a candidate to have 10 years of experience in the industry, or numerous board seats or investments led, will mean that the pool of "qualified" candidates will consist of mostly white men. One point that Bettine Schmitz also believes needs to be talked about more is the lack of infrastructure when it comes to starting a family. Starting a startup, being in a high position and building families often fall into the same phase of life. One must consider that the career path is not as perfectly paved for women as it is for men.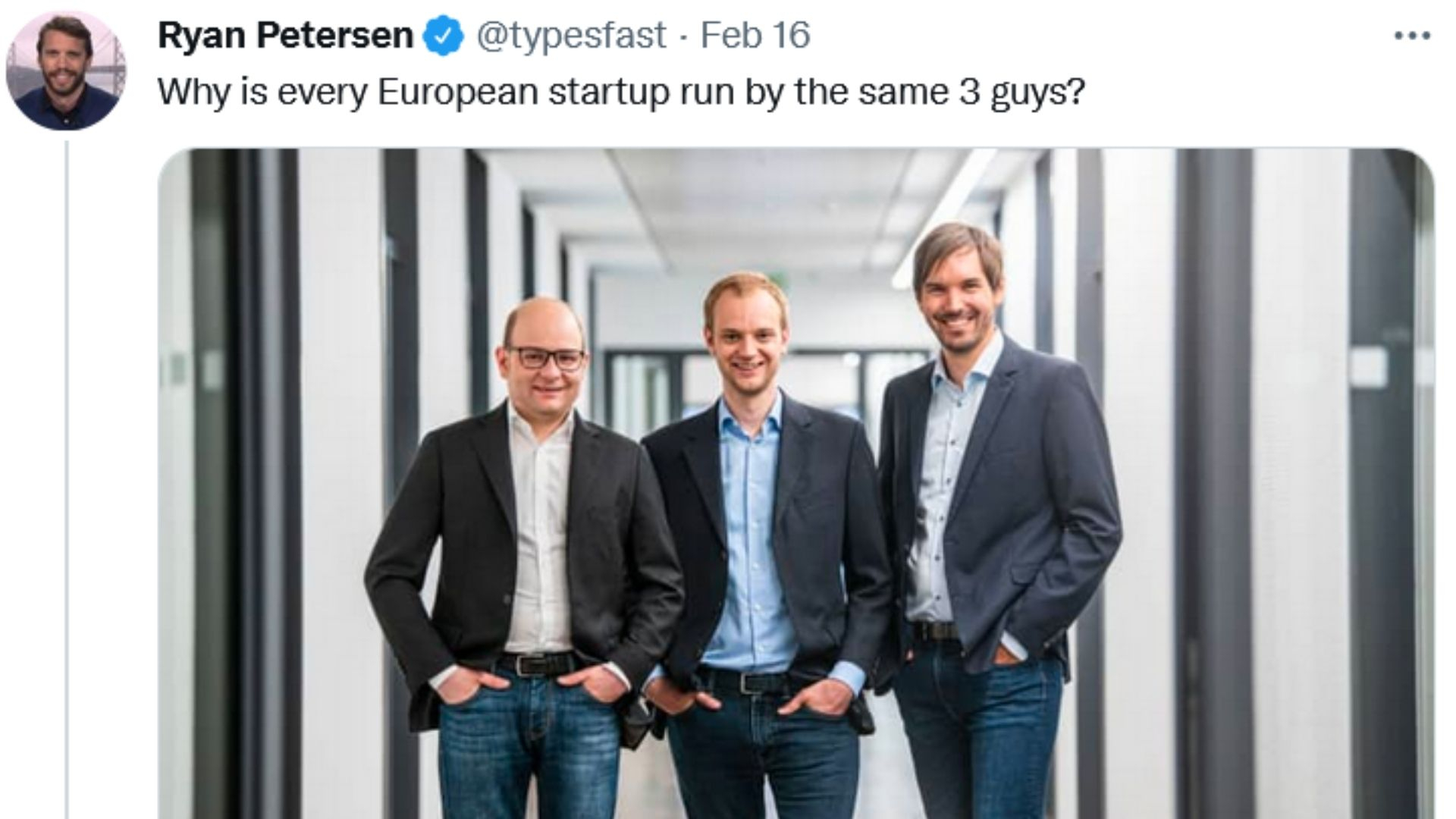 Meme by Ryan Petersen
Unconscious biases have a critical effect on our judgment. There is a common picture of founders, but this is based on stereotypes, explained Duc Quyen Tran. Affinity bias is a well-known phenomenon that a lot of investors are likely aware of. These biases have deep and long-lasting implications on many groups and their ability to access capital and jobs. This is something the VC industry should be acutely aware of, given its own homogeneity. Start by admitting and learning that there is implicit bias. We need to not only look at qualifications, but also at what diversity is and how an outsider's perspective can be an advantage, comments Petra Sokolová. If you want to learn more about unconscious biases, check out the SpinLab blog article about myths on gender diversity in the startup world.
"We just can't find qualified women" is nothing more than a pathetic excuse
More than half of the large listed companies in Germany have no women on the board of directors. The argument that there are not enough women who could be considered for such leadership roles no longer works. Often women are not supported enough, and male dominated work culture prevents their promotion. Quotas are not a cure-all, but they are necessary to break the system, comments Dagmar Bottenbruch. In advisory boards, quotas have led to more support for women on other job levels in the same companies. In many cases, positions are still filled in such a way that board members are very similar in terms of age, gender, origin and education. The VC network has the same problem. It takes less convenience and more courage to overcome the cycle. Having fewer women in these high level roles means fewer women can see themselves in them, thinking about entering the field or starting their own business.
It's difficult to create a more diverse venture capital management team when most of the people come out of highly exclusive networks that aren't diverse. Heads of venture capital firms should expand their networks and the places they look for investment professional talents.
The guys get asked for the possibilities, the girls for the risks
Investor Bettine Schmitz draws attention to the fact that no one is exempt from unconscious bias. Therefore, it is essential to be aware of this and to always reflect on one's decisions. Unfortunately, she has very often observed that with the same pitch deck, the men's team gets the investment. A study by Harvard Business School also confirmed that male founders were 60% more likely to achieve pitch competition success than were female founders. Investors prefer pitches presented by male founders, even if the pitch is the same.

Yet, it is not only imperative for the VC industry to promote diversity for the sake of a fair and inclusive society; it is also likely to have a positive impact on returns. Indeed, a variety of studies showed

that diverse teams perform better than non-diverse competitors

. Dr. Tanja Emmerling stated in her keynote during the HHL Investors Day that: diversity is profitable because teams with different experiences, skills, and backgrounds are more likely to effectively solve problems than teams who are homogenous. Further, she explains that diversity makes investment decision-making better.

Petra Sokolová advised that VCs should talk to founding teams about diversity and make it a requirement to have diverse employees in the team. Venture Capital has a big influence on the companies that they funded, so if VC's could address that at the source of the venture capital level, then this could have a meaningful impact on the company's culture.
Make a difference
Central points for strengthening female founders in the startup ecosystem are, on the one hand, increasing the number of women in key economic positions and in venture capital companies. Furthermore, a cultural change that breaks down outdated role models and encourages women to establish themselves in the industry. The panelists were convinced that if there were more women represented in venture capital, more diverse startup teams would be supported and funded. Diversity is not a nice to have, but essential for creating innovations as well as sustainable growth.