After an injury, many patients need physiotherapeutic care. For this, they usually visit an ambulant practice several times a week. However, independent training at home is just as important for the success of the therapy. There are usually no guided exercises for this and if there are, the instructions are often difficult to understand and not very motivating.
"In the worst case, people with the same problem end up in the surgery a second time because the follow-up care went wrong," says Dr Alexander Georgi, an orthopaedic and trauma surgeon himself in Leipzig and co-founder of the startup eCovery. Patients go to physiotherapy for a few weeks, but the number of sessions is strictly limited. In the meantime, they are left to their own devices with exercises at home. That's what eCovery wants to change. "Because what the patient really does at home for rehab has been a black box until now."
The plan: to use an app to guide patients in exercises at home; thus closing the gap that occurs between physiotherapy sessions prescribed by a doctor, and to help users progress faster in their healing process.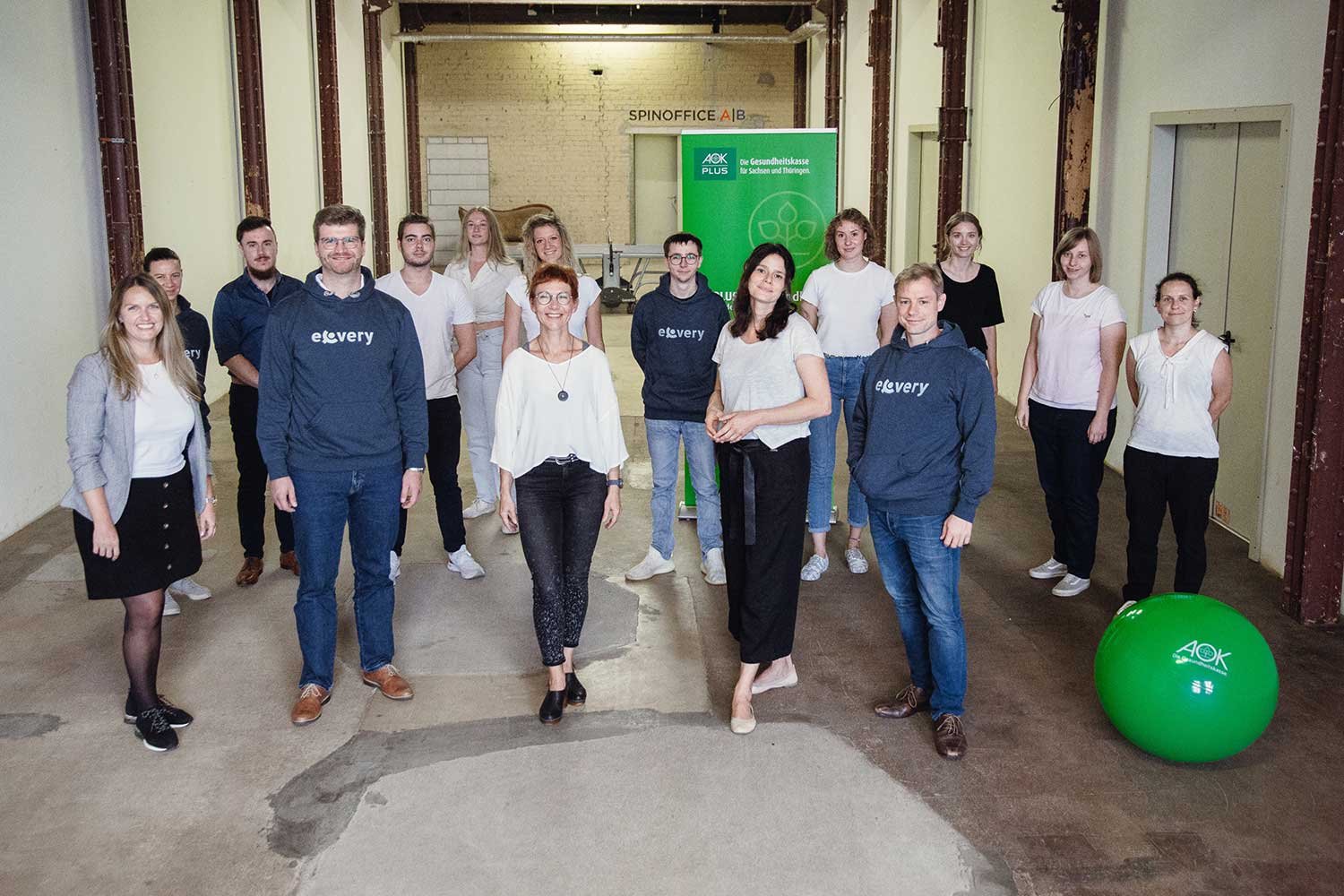 Through SpinLab, the ehealth startup eCovery and AOK PLUS teamed up.©Covery/F. Pappert
In 2018, the eCovery team pitched their business idea at SpinLab - The HHL Accelerator and convinced not only us but also our partner AOK PLUS - the biggest health insurance company for Thuringia and Saxony with more than 3.4 million people. SpinLab and AOK PLUS have been cooperating since 2017 as part of a strategic partnership to jointly drive intelligent solutions for the healthcare system of the future.
Winning AOK PLUS as a mentor was one of the reasons for eCovery to apply to the SpinLab startup program. "For us, it was clear early on that an optimal digital therapy cannot be created on a greenfield site. Cooperation with health insurance companies is therefore a central element of our product development," comments eCovery managing director Benedict Rehbein. Which is not to say that this cooperation is without challenges: "Startups and health insurance companies have different cultures and processes. What is fast for one may be slow for the other," points out SpinLab Managing Director Eric Weber.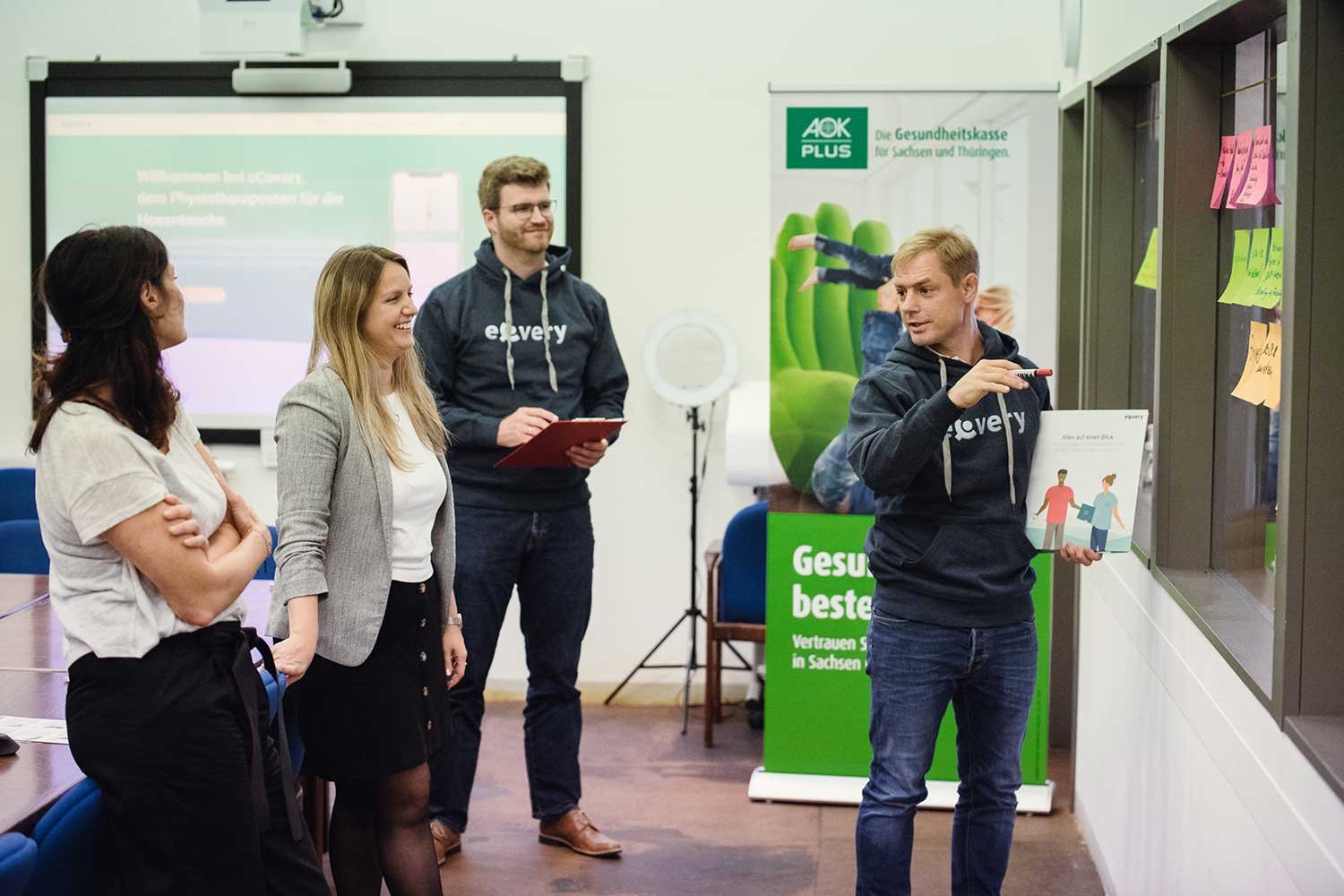 Digitally supported physiotherapy: AOK Plus and eCovery start pilot project ©Covery/F. Pappert

In the cooperation between eCovery and AOK PLUS, patience and clear communication have therefore proven their worth. "We gained practical insights into the challenges of young companies and developed a sense for each other's needs," says Lisa Feiler, e-health expert at AOK PLUS. Developing intelligent solutions for healthcare together means in practice navigating between the legal framework, the creative chaos of the young companies and the often longer decision-making processes in statutory health insurance.
Hybrid therapy for pain patients
In a pilot project, the two partners are now testing a hybrid therapy offer for people with back, hip and knee pain. The project combines physiotherapy with eCovery's digital, app-based training and aims to relieve patients' pain more quickly. Physiotherapists participating in the project can offer their patients eCovery's therapy app in addition to physiotherapy treatment. This app will be made available to patients for up to six months, with the costs covered by AOK PLUS. In the first phase, they are treated in parallel in seven sessions in the physiotherapy practice and in between they practice independently according to the instructions of the eCovery app. The therapists closely coordinate the physiotherapy treatments with the app exercises. In the second phase, the patients continue the therapy independently using the app.
Innovation made in Leipzig
"eCovery is another successful example of our strong ecosystem. As a spin-off from the University of Leipzig, the startup took part in our accelerator program to enter the market with our help and our network. In a short time, they were also able to convince several investors," adds Eric Weber. After the six-month programme, the team decided to stay at the Smart Infrastructure Hub Leipzig and still has an office in our SpinOffices.
The startup from Leipzig was also able to win over other health insurance companies. At the beginning of the year, the cooperation with Techniker Krankenkasse was announced. 11 million people insured with Techniker Krankenkasse can receive free assistance with knee pain. Managing director Benedict Rehbein sees the door to the healthcare market open for startups. Even if the players are still looking for the balance between patient safety, data protection issues, better care and purely an end in itself - on balance, he sees a benefit for patients: "I am convinced that something very good can come out of it when health insurance companies, startups and associations work together critically but constructively on new care innovations."
After the digital birth preparation course by SpinLab alumni keleya and the stress management app Stresscoach, digitally supported physiotherapy by eCovery is another offer from SpinLab that AOK PLUS makes available to its insurants.
Accelerate your business
During the SpinLab accelerator program your startup gets an intensive support with top notch experts from the Smart Infrastructure Hub Leipzig and beyond. Additionally, tons of valuable insights, workshops, mentoring and indivudal coaching sessions you can get up to 15.000€ in free funding and the one-time chance to realize real pilot projects such as eCovery with AOK Plus. Follow our social media channels or subscribe to our newsletter to not miss the application deadline.