Today's date is March 19th, 2020 and if you're just hearing the latest news about the Corona Virus Pandemic that is sweeping across the globe, I want to know what cave you've been hiding in, because it seems one cannot escape hearing about the pandemic every five minutes.
It's going to get harder, before it gets better
This is going to be a trying and very difficult time for all non-critical businesses . Panic has historically led people to very rash decision making processes. (Toilet paper anyone?)
Neil Patel recently did a really good article on how the corona virus is going to effect businesses. According to his research, the only sectors that have experienced increased traffic during the pandemic are:
Finance
Food
Healthcare
Media
The first three make sense, there is a lot of worry revolving around those three topics, so naturally people want to inform themselves as best as possible.
Media also makes sense, as news sources around the world scramble to get info out to the general public.
And that is it boys and girls, every other major sector is taking a beating. The hardest beating is currently being dished out to the travel industry, which is currently experiencing a 45% decrease in website traffic as a sector.
The worst part about all of this?
It's definitely going to get worse for us, before it starts to get better.
At the time of writing this, there is still a lot of general panic in the world, no solid indications of a vaccine or cure being on the horizon, and we're in the middle of the viruses second epicenter.
Corona is going to continue to wreak havoc on some of the world's largest and most powerful and industrial hubs for a while, so the world, more now than ever, needs to collectively unite to help keep our economies as healthy as we can.
A heartfelt call to action: Support our startups, keep pushing our economy, and keep yourself & others safe at the same time
You've all heard of the term call to action before. It's been nuked in the marketing world as something on a website that gets somebody to do something.
"Something on a website that gets somebody to do something"
Wow. could marketers be any less specific with their definitions?
Anyways, what you may not know, is that back in the day, a call to action or call to arms were the terms used to unite people against a common enemy.
That didn't have to mean grab your guns and get ready for war (sorry USA), it just mean that everyone had to band together to serve a common cause to defeat a common threat.
That threat is the pandemic.
My call to action for you guys, is to take an in-depth look at some of the startups and their products I am going to list below.
These are all startups that have at some point participated in our program, right here in Leipzig. They're all still young and fragile companies, many of them just starting to experience success before the pandemic hit.
These guys need you.
Let's not let corona make us forget that there were, and still are, people out there developing and pushing technology to make this world a better place.
That same type of technology and mindset, might just be the key to beating this damn virus for good. So let's not forget about that.
Plus, I've handpicked startups that have products that can actual benefit you during these trying times.
So without further ado:
(Full Disclosure, some of these solutions are only available in Germany and/or in the German Language)
Wundercurves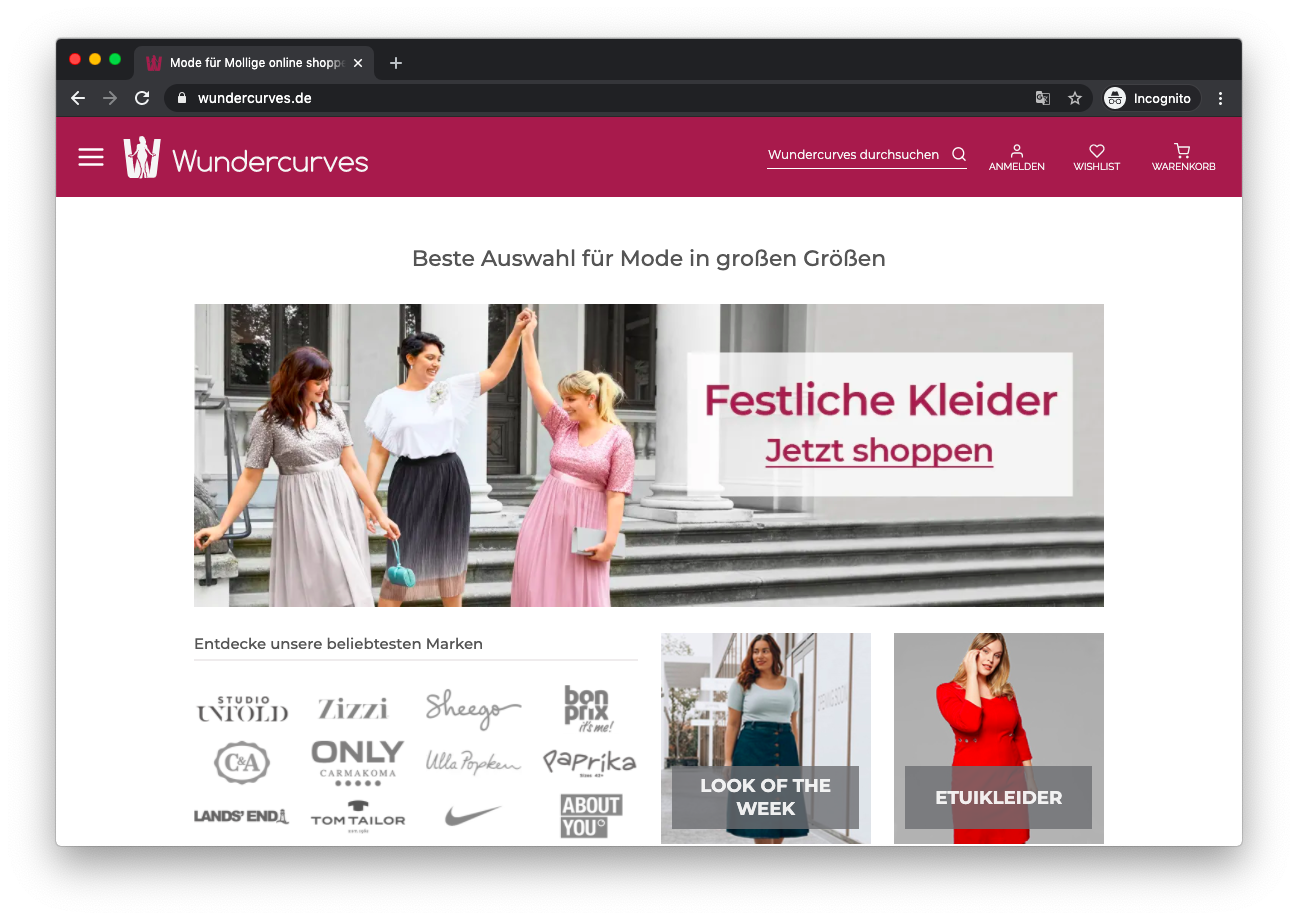 A class 4 alumni, the Wundercurves team is committed to providing a massive selection of clothes in plus sizes for women. The product and its offerings have have expanded greatly since they were in our program.
They can help you get clothing items delivered to your door fast. No need for personal contact in a physical shop.
Price Range - Varies per clothing item
DIPAT - Die Patientenverfügung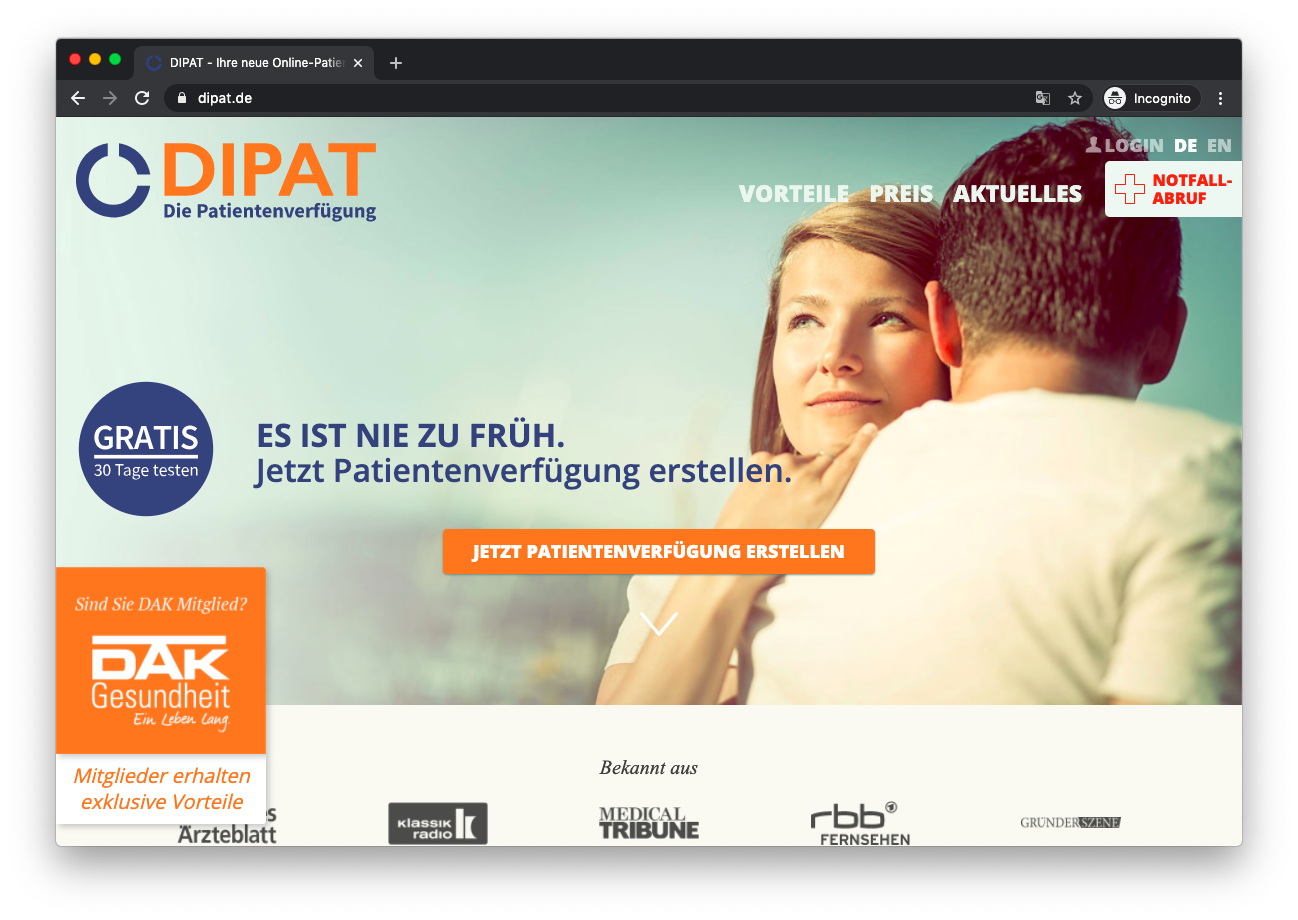 The best thing we can do in a time of uncertainty, is remain calm, think twice about things, and be prepared.
In a time where health is a major concern, you can never be too prepared. Also a class 4 alumni, DIPAT has developed an electronic living will that is fail-proof in Germany's legal system.
If the thought of what could happen to you in a hospital, should you no longer be able to make those decisions yourself, worries you, then this is a perfect solution.
Corona Virus or not, who is going to make the tough decisions for you, and respect your wishes, when you cannot do it yourself.
Price Range - 48€ per year
vizzlo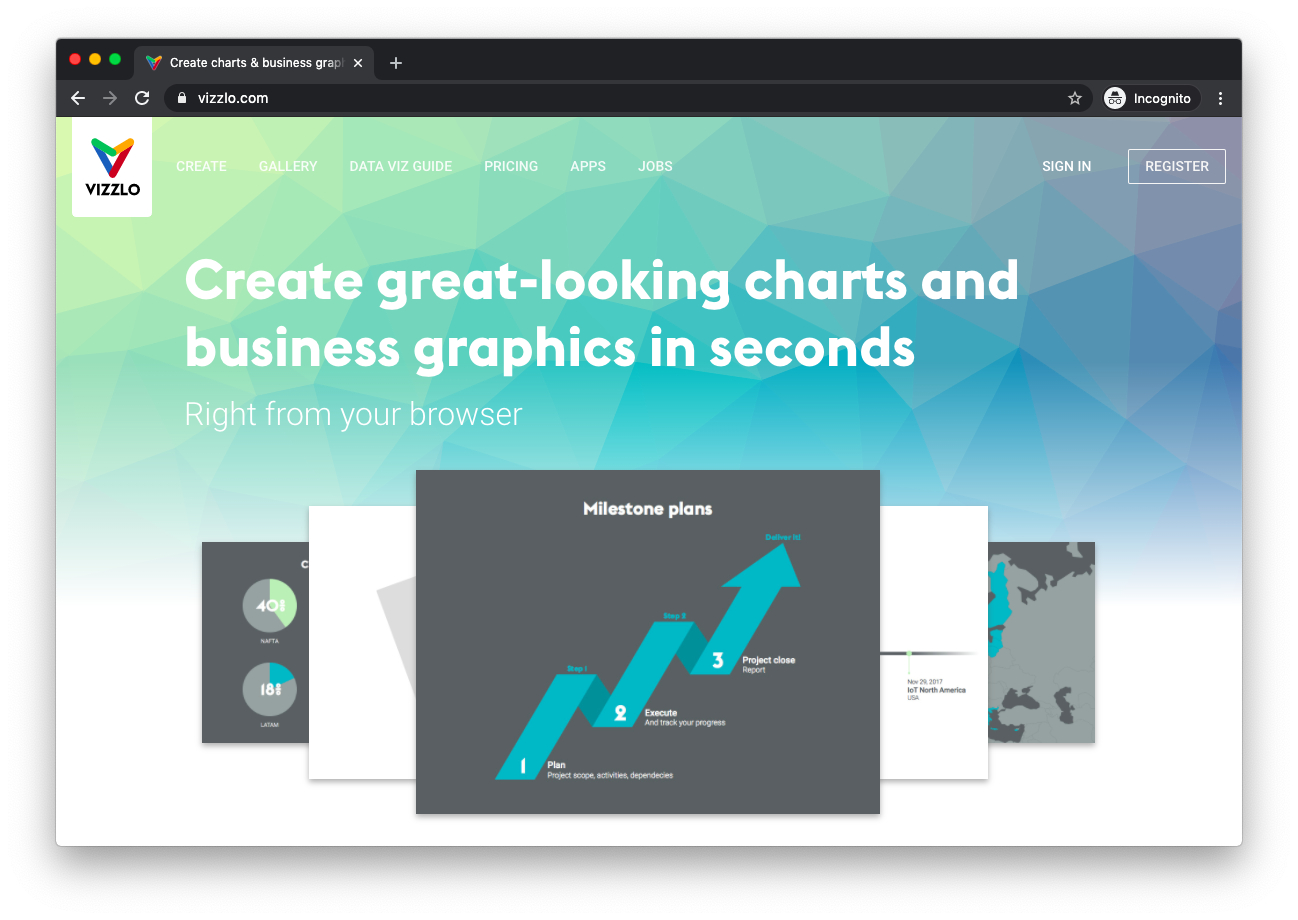 When you look at the bright side of things, let's take a minute to look at the situation as a whole:
We live in an era, where almost overnight, industries across the world were able to switch to a work from home model to keep their teams and their customers as safe as possible.
That's magnificent, 20 years ago, this would not have been the case and this pandemic would be kicking our butts much worse than it already is.
vizzlo is a class 3 alumni that has developed a SaaS product to help create beautiful graphics and charts, in much less time than traditional products such as PowerPoint.
We don't know how long we're going to be in this mess, so if you're already struggling to get used to working from home, you might as well have some kick ass graphics in your documents
Price Range - Freemium - 45€ per month, depending on subscription
Neuronade
People are realizing more and more these days that self-care is important. We have to take care of ourselves before we can offer the best versions of ourselves to the rest of the world.
For many, self-care matters more now than ever. Class 3 alumni Neuronade is based right here in Leipzig, and they developed a think drink that is vegan, caffeine free, 100% made in Germany, and all natural to help you focus on the task at hand.
So while you're acclimating to social distancing, give your brain the fuel it needs to get tasks done as efficiently as possible.
Price Range - 59€ for a pack of 100
tex-lock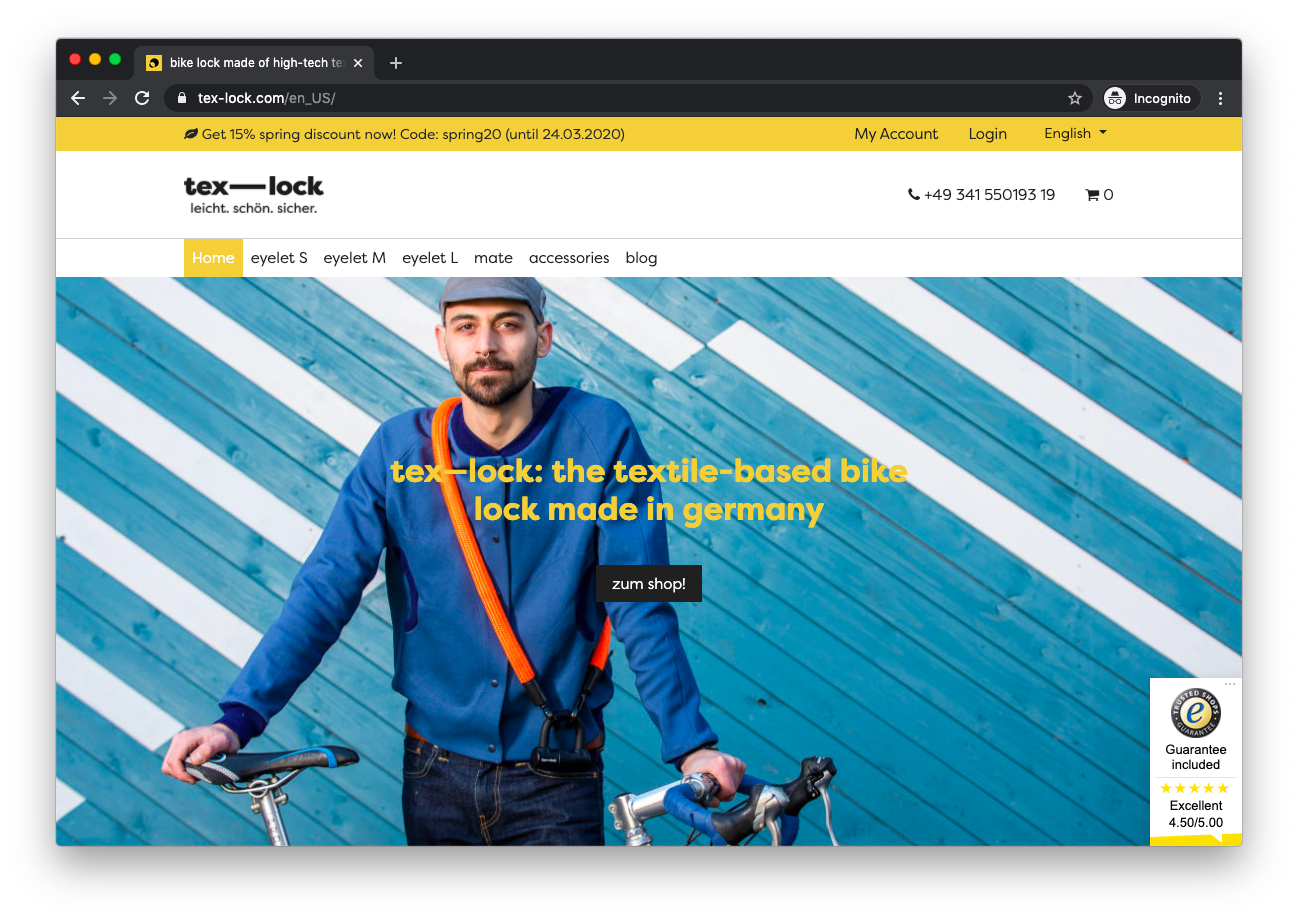 A state of panic should not cause us to overlook the things we need to protect every single day.
Spring is on the horizon, humanity is vulnerable, and sadly those two things create an opportunity for would-be bike thieves.
Class 4 alumni tex-lock, is also based right here in Leipzig, and they are also our first 100% female founder team.
They created a bicycle lock from high tech textile materials, and there is no better way to describe it, than the company's own motto:
light. beautiful. safe.
The products now carry an ART 2 security rating, and are also recommended by ENRA, an e-bike insurance company in Germany.
By the way, did we also mention their products are 100% made and assembled right here in Leipzig?
Keep your bicycle safe during these weird times, so it's ready for you to cruise with as soon as we're done beating the corona virus!
Price Range - From 109€ Currently there's a 15% discount code: spring20 which is valid until March 24th, 2020.
DOCYET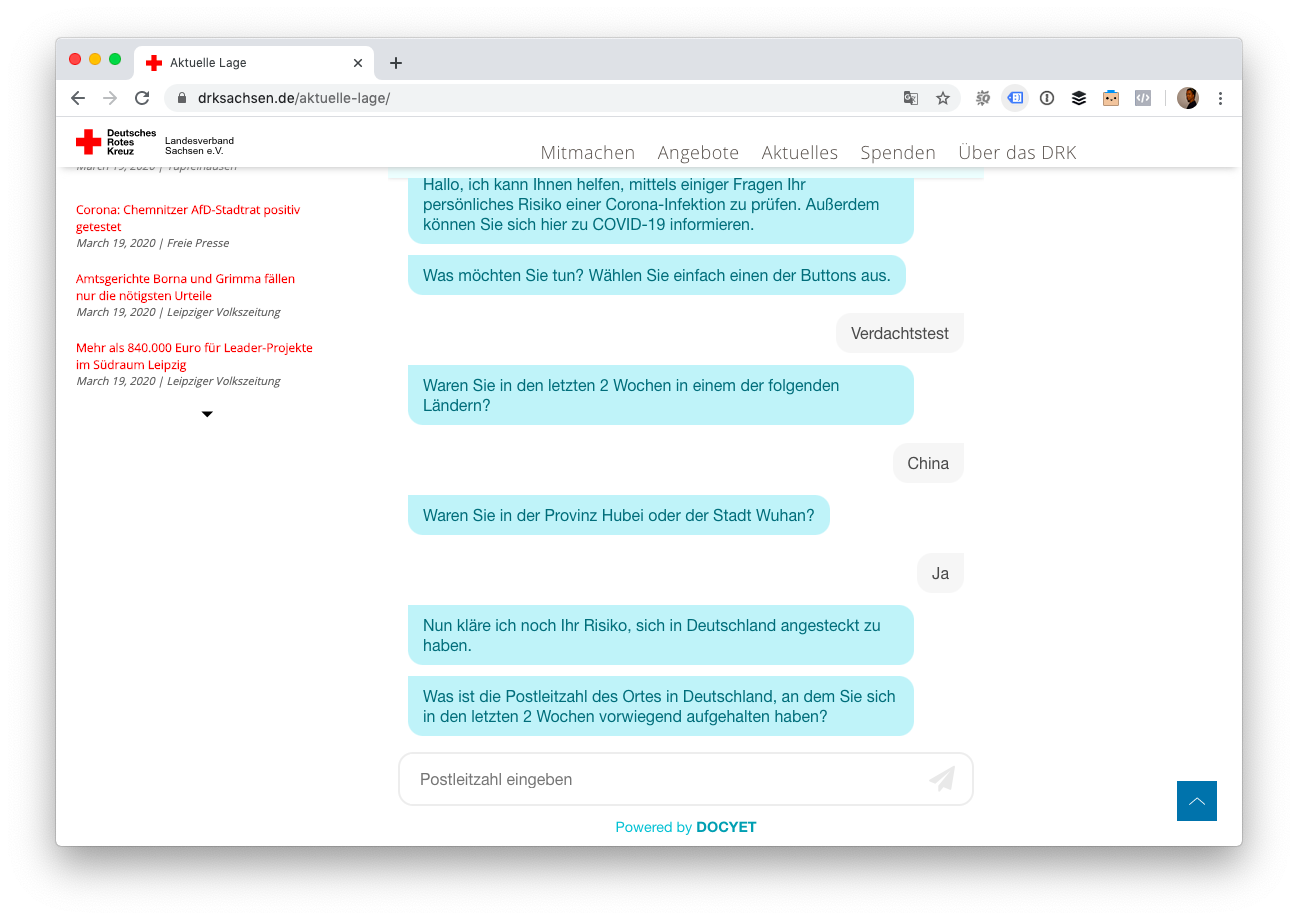 Panicking and flooding into overcrowded and understaffed hospitals and medical facilities is not the best thing to be doing right now.
The world's medical personnel are under great strain, let's support them by giving priority to patients who are currently truly in need of their expertise and professionalism!
Class 5 alumni DOCYET has officially teamed up with our partner, the German Red Cross, to develop a chat bot which can help you identify your level of risk for the virus.
This information can help you make more informed decisions, and also help you stay up to date on the pandemic.
Price Range - Chat bot at https://drksachsen.de/aktuelle-lage/ is 100% free to use, contact DOCYET directly for pricing structure if you're interested in a chat bot for your business.
MINDANCE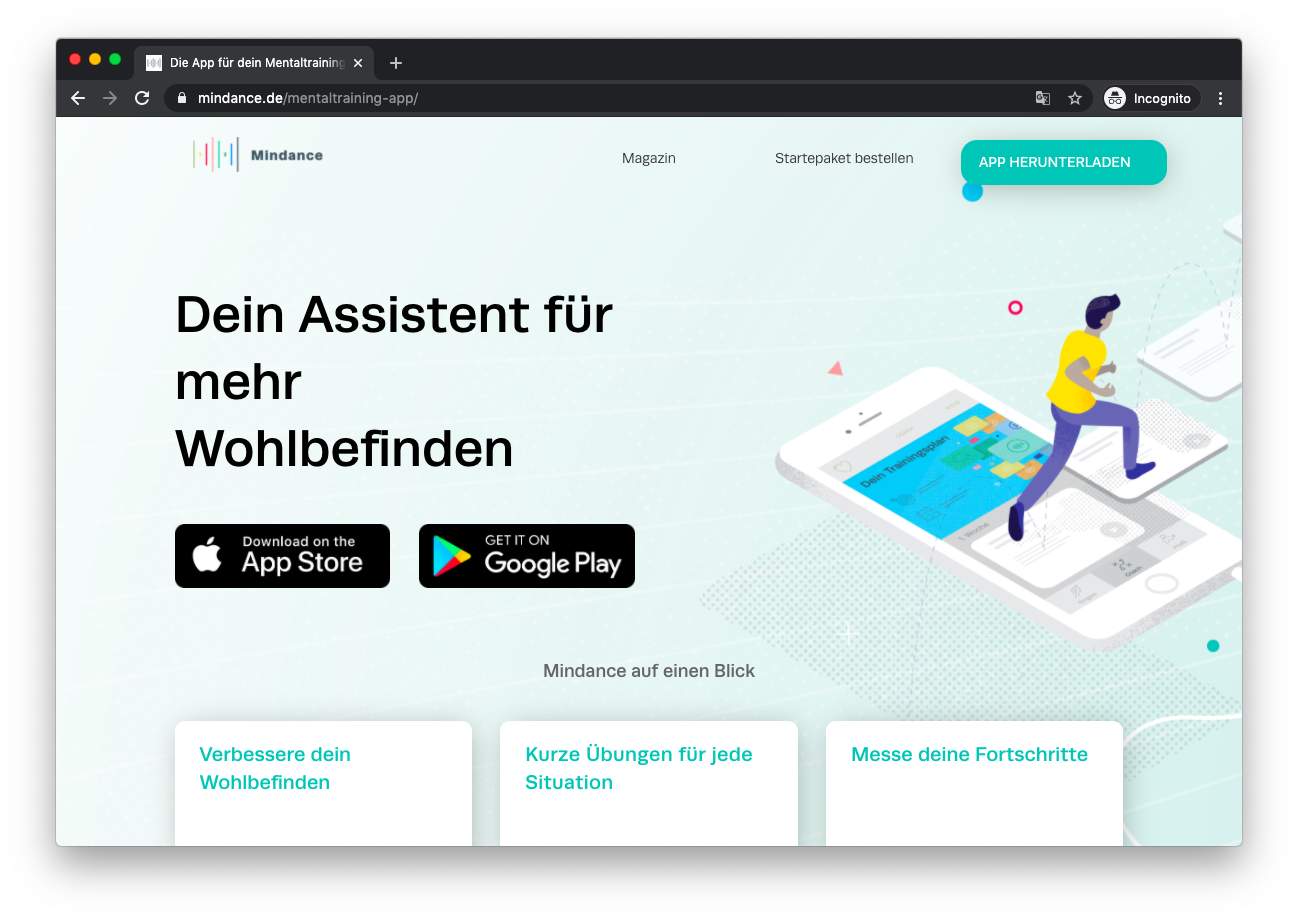 In a world that is currently only breeding chaos, sometimes you need to be responsible for your own peace and tranquility.
Class 6 alumni MINDANCE has developed an app that focuses on helping people achieve more mindfulness during their workday.
You owe it to yourself to make sure you are taking care of your own mental health during this very stressful time.
MINDANCE can help you find that.
They're carrying high ratings on both iOS and Play stores, so you know you'll be happy with the product.
Price Range - 10.99€ on a month to month subscription
Keleya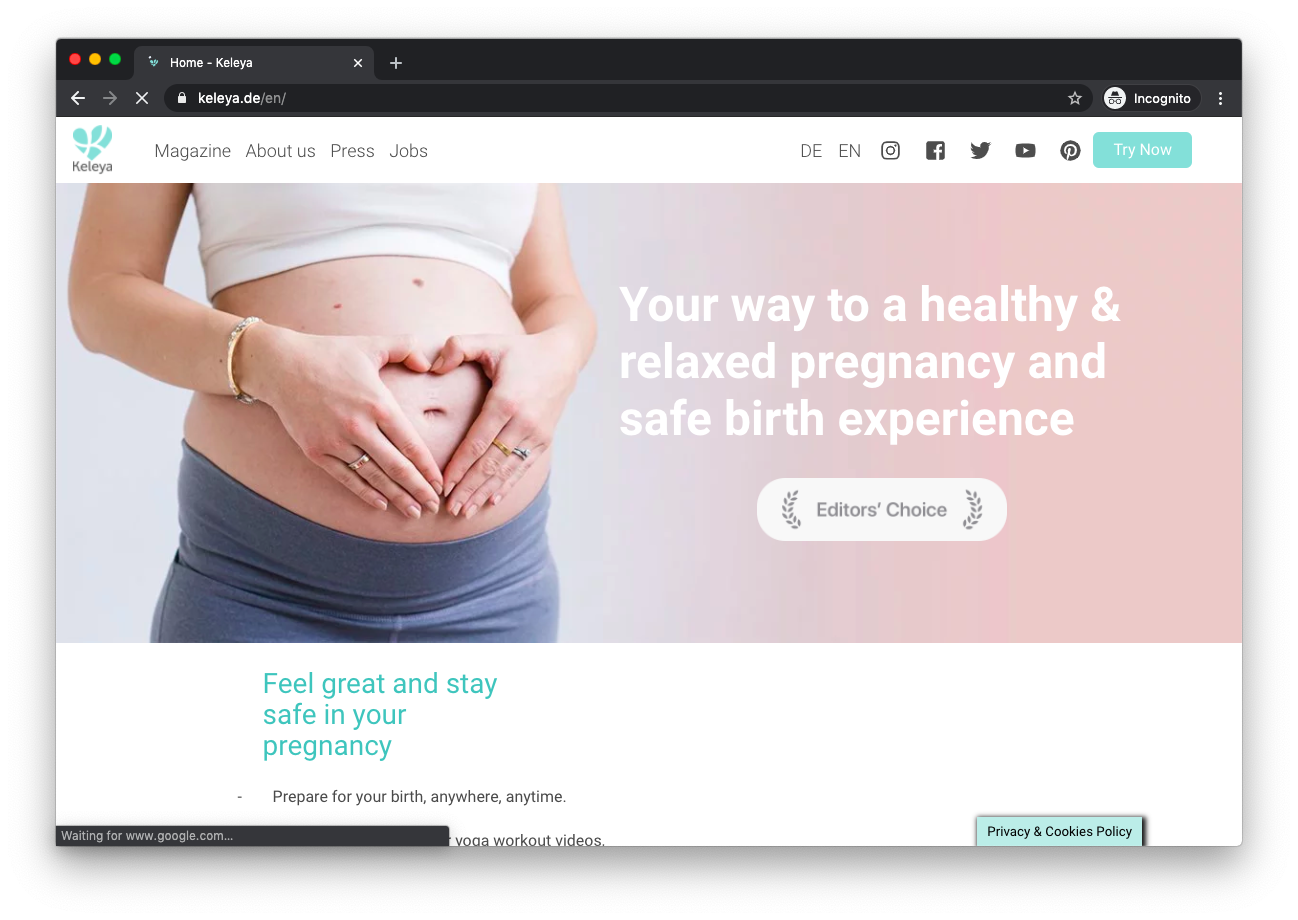 Nobody plans for a pandemic. Ok some people do, but those people are generally a bit…weird…
Anyways, if you are a soon-to-be mother, you no doubt have a ton of responsibility on your shoulders.
Not only do you have to keep yourself and others safe, you have to ensure the well-being of that baby developing inside your body.
Class 6 alumni Keleya is a Berlin-based startup that has developed an app to help coach you through the phases of pregnancy.
Yoga videos, recipes, personalization, everything you'd need right inside of an app that is made by moms for moms.
Best part, it totally helps you keep that social distance.
Price Range - 9.99€ for a month to month membership
air-Q & Solaga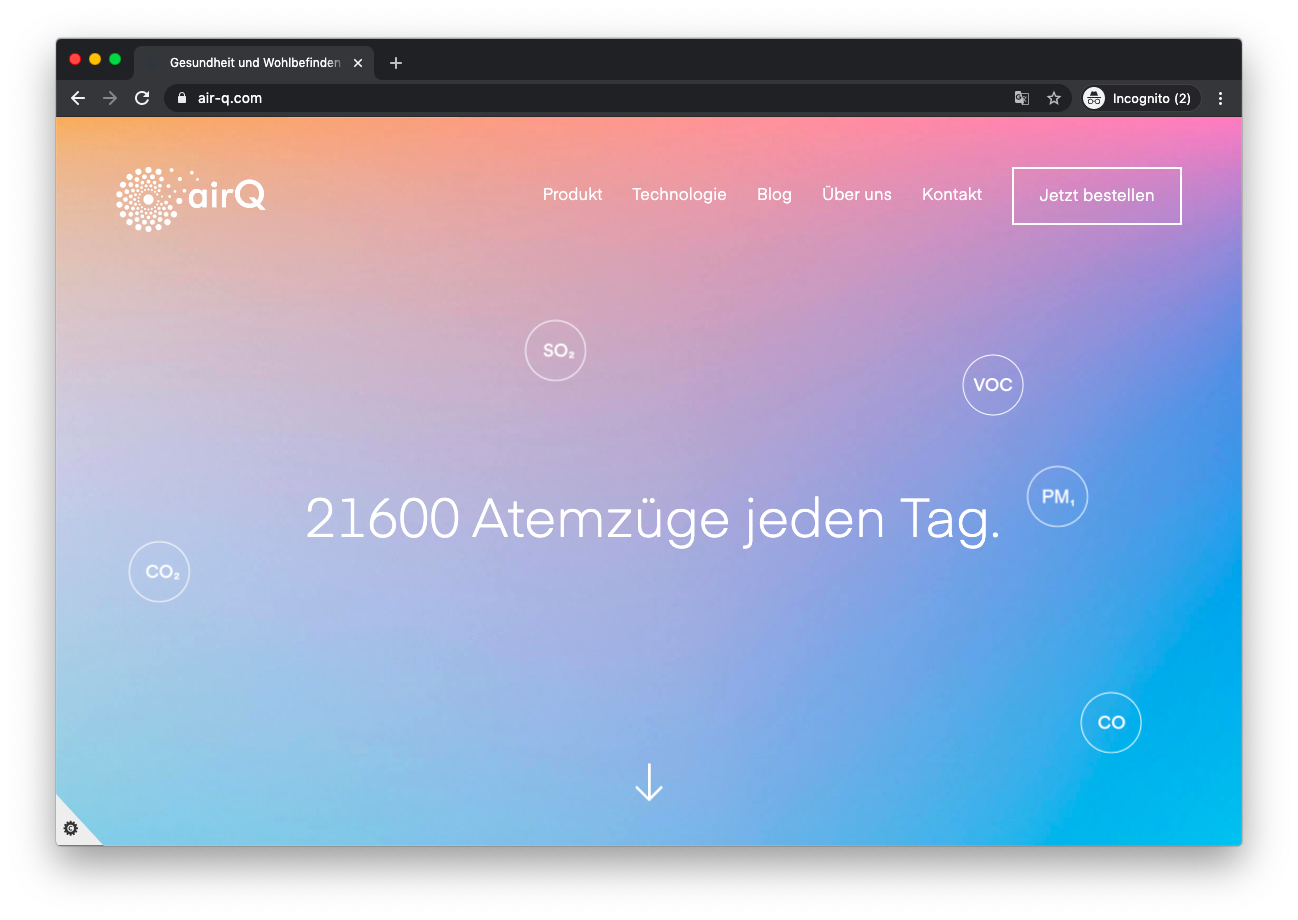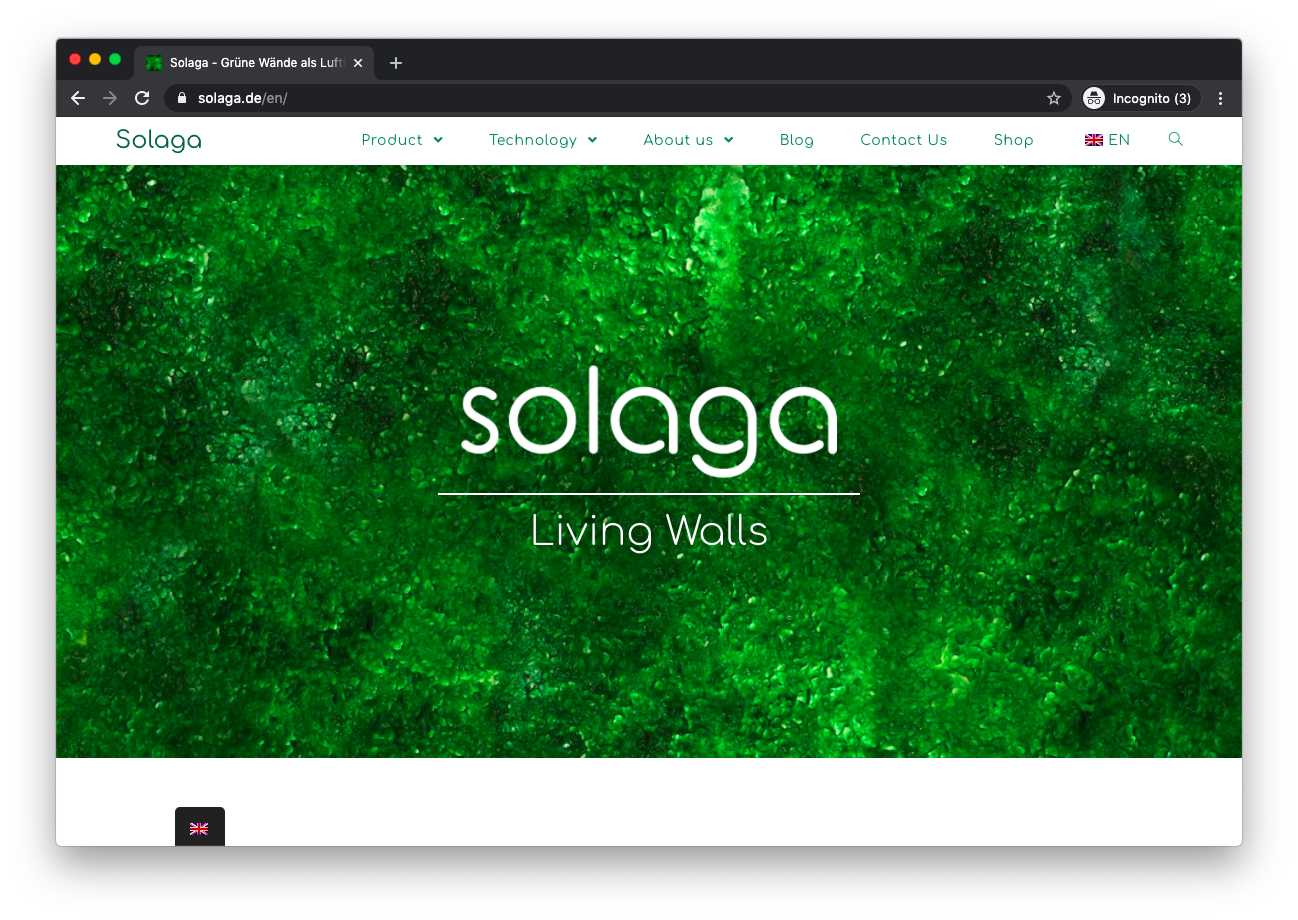 Speaking of working at home, have you ever thought about how good the air you're breathing at home actually is?
Sometimes good collaboration has to start between entrepreneurs.
Class 8 alumni air-Q has developed a smart device for monitoring air quality, and notifying you of potential harmful impurities in your air.
Meanwhile class 9 startup (current class) Solaga has developed a picture frame contain natural algae which can actively clean the air in your space.
Combine both of these innovative products to make sure the air you're going to be breathing at home for the coming weeks is as good and pure as it can possibly be.
Price Range An air-Q device starts at 379€ and the current version of Alwe, Solaga's living frame with algae, starts at 499€
mementor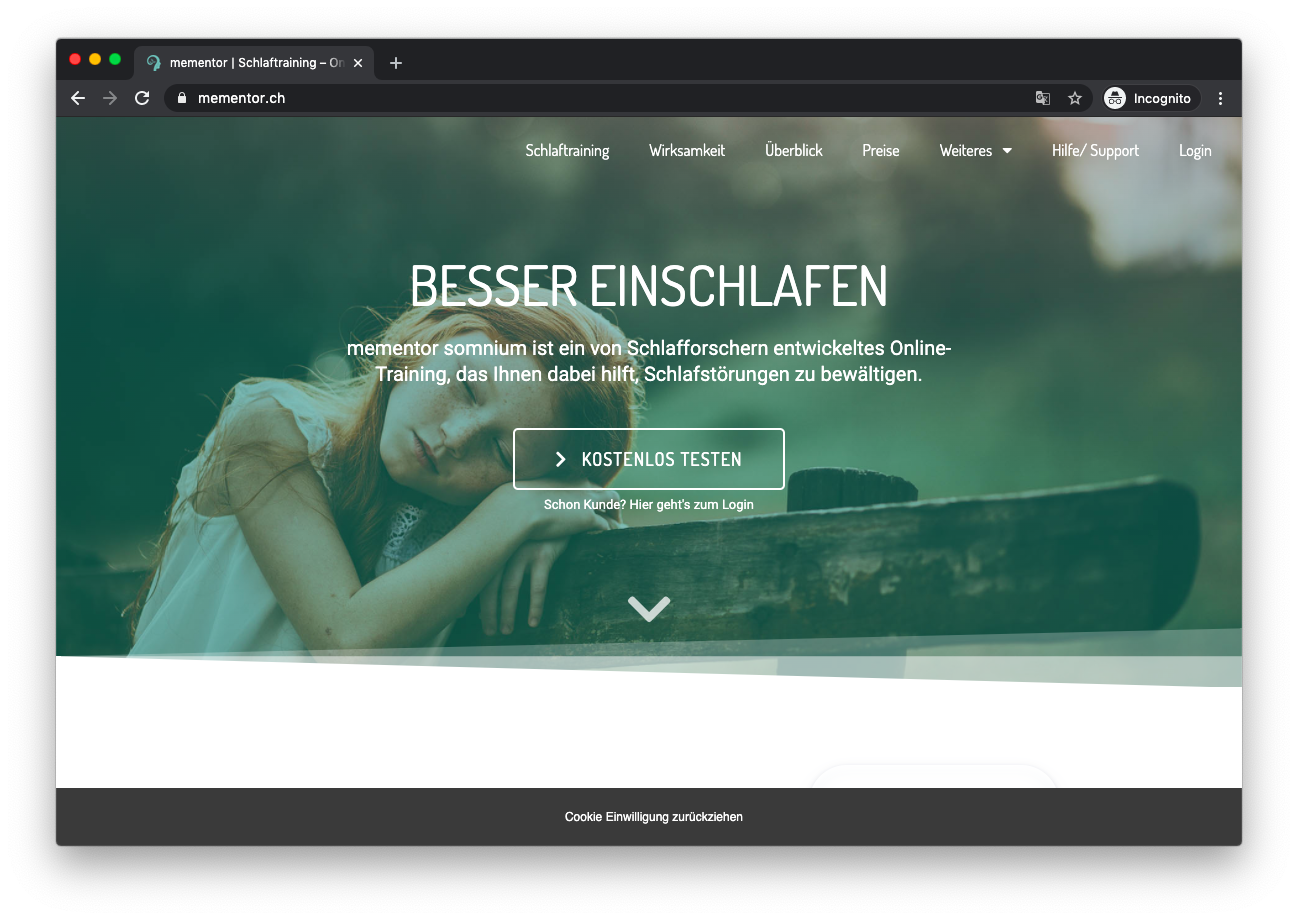 We all know it, sleep is important. Yet so many of us deprive us of enough quality sleep.
Sleep helps us recover, and it helps our bodies stay strong. Don't forget, not only are we dealing with the Corona Virus Pandemic, it's also that key time of the year where winter switches into spring and people tend to get sick regardless.
We need to keep our immune systems operating at their best right now, and in this regard, proper sleep is just as important as your diet and getting enough water.
One of the startups in our current class, mementor, has developed an online sleep training platform to help you sleep longer and better.
So if the stress of the situation is keeping you awake at night, get your hands on this app to help you conquer that.
Price Range - 89€ for the entire program. It is a one time cost.
Conclusion: It's up to us to keep the economy running as best as we can
It's up to us as a society to make sure the world we have all worked so hard to build doesn't fall apart when times get tough.
Will it be easy? No, it will not. People are going to be scared, but we have to look out for each other.
This stands for everyone, and in all forms of businesses. Yes, we want you to support our startups. Yes we want to keep innovation alive during this crises.
But above all, let's keep pushing forward together. Keep paying for your subscriptions to dance studios and gyms if you can. Reschedule your travel plans, don't cancel them. Stay flexible with business agreements you have entered into.
That's our list, now we just have to sit back and, and wait out the storm.
Above all else, stay safe, stay healthy, and we're looking forward to beating COV-19 together with all of you.