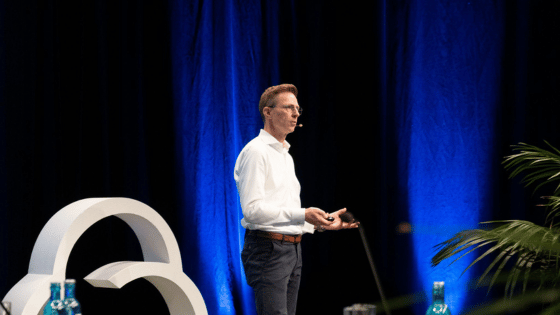 At this year's HHL SpinLab Investor Days, Bjorn Tremmerie, Head of Venture Capital and Impact Investing at the European Investment Fund (EIF), took the stage to deliver the opening keynote. He discussed the future of Funds of Funds and why Europe has become THE center for entrepreneurship. In this article, we explore the key takeaways from Tremmerie's speech and its implications for European ventures.
EIF the largest investor in European venture
The European Investment Fund (EIF), established in 1994, is a financial institution dedicated to providing finance to small and medium-sized enterprises (SMEs). As part of the European Investment Bank Group, its primary focus areas are venture capital and guaranteeing loans. Instead of directly lending money to SMEs, the EIF operates through private banks and funds. Its shareholders consist of the European Investment Bank, the European Union represented by the European Commission, and 30 privately owned EU financial institutions. Tailoring its approach, the EIF designs and implements various financial instruments, including venture and growth capital, guarantees, and micro-finance solutions.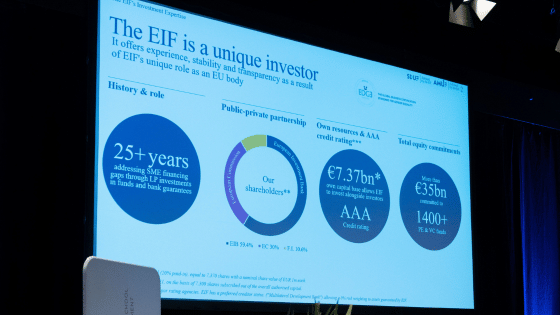 In line with key EU policy objectives, the EIF actively drives progress by promoting competitiveness and growth, fostering innovation and digital transformation, and addressing pressing issues like climate change and environmental sustainability. Beyond the economic realm, the EIF also strives to create a positive social impact by nurturing human capital and skills, enriching the workforce with talents that contribute to overall development. More than 1 million SMEs have benefited from enhanced access to finance through financial instruments managed by the EIF.
European Venture is heating up
The report on "The impact of the European Investment Fund (EIF) on the Venture Capital ecosystem" emphasizes the positive effects of EIF's interventions on the VC landscape. EIF's support has significantly stimulated venture capital investments, fostered innovation, and facilitated the growth of startups and SMEs in Europe. By providing financial backing and risk-sharing mechanisms to VC funds, EIF has attracted private investors, unlocked additional funding, and mitigated investment risks. As a result, more startups have gained access to capital, leading to job creation, economic development, and increased competitiveness in the European entrepreneurial ecosystem.

"Over the past 20 years, Europe has become a breeding ground for entrepreneurs. Successful startups such as FlixBus, HelloFresh, and Zalando show that entrepreneurship is not a suicidal mission anymore," stated Bjorn Tremmerie.

Europe has witnessed a remarkable surge in its venture capital ecosystem, establishing itself as a global powerhouse for innovation and entrepreneurial growth. This rapid evolution can be attributed to a confluence of factors that have fostered an environment conducive to startup success. Bjorn Tremmerie identifies the following reasons contributing to this booming VC ecosystem:
Abundance of Talent and Diversity
One of the key pillars driving Europe's VC success is its diverse and talented workforce. The continent boasts some of the world's most prestigious educational institutions, nurturing a rich pool of skilled professionals across various disciplines.
Supportive Government Initiatives
European governments have proactively embraced entrepreneurship, establishing policies and initiatives that encourage startup growth. Various countries offer tax incentives, grants, and subsidies to foster innovation, reduce bureaucratic barriers, and provide support to emerging businesses. Moreover, the European Union's funding programs, like Horizon Europe or SpinLab partner European Innovation Council (EIC) significantly boost R&D investments and strengthen the continent's technological prowess.
Flourishing Startup Hubs
Europe is home to several thriving startup hubs that act as magnets for both local and international entrepreneurs. Cities like London, Berlin, Stockholm, Paris and of course Leipzig with the Smart Infrastructure Hub have emerged as hotspots, offering a strong infrastructure, access to funding, mentorship, and a network of like-minded individuals.
Successful Role Models
Bjorn Tremmerie made the point that successful founders who have exited or achieved Unicorn status do not rest and sip piña coladas on the beach. Instead, they often embark on new startups, become serial founders or business angels, sharing their knowledge and even raising VC funds.
The European VC scene is enriched with inspiring role models who transitioned from successful startup founders to influential figures in venture capital. These individuals have not only achieved entrepreneurial success but also fostered growth and innovation in Europe. One prominent name stands out - Atomico. Founded in 2006 by Niklas Zennström, one of the co-founders of Skype, Atomico has become a leading venture capital firm and invested in companies like Klarna or in SpinLab Alumni Digitail. Atomico's active presence has elevated it as an influential player in technology investments.
Success breeds startup success
According to a study by Dealroom and Accel, a significant majority (56%) of companies established by former unicorn employees originate in the same cities where their unicorn employer was founded. This talent flow has created a spinning flywheel effect, strengthening the European and Israeli tech ecosystems since the 2008/9 financial crisis. The presence of existing unicorns has played a vital role in attracting and nurturing new entrepreneurial ventures, leading to a more robust startup landscape in these regions.
"As a result, these hubs now have abundant funding available to support promising ideas. Entrepreneurs no longer need to go to the US, they can find the necessary capital right here in Europe, " added Bjorn Tremmerie.
Check out this article about six emerging European venture capital funds and follow us on LinkedIn to be up-to-date about the next HHL SpinLab Investors Day.