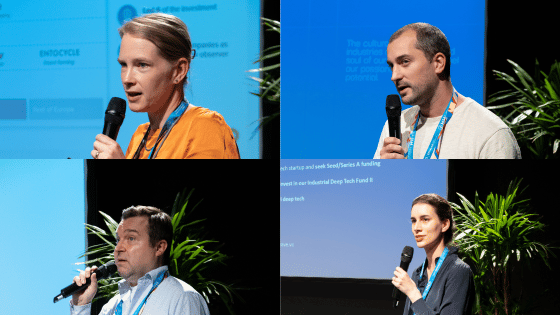 This year's HHL SpinLab Investors day edition was an incredible showcase of innovative startups and visionary venture capitalists, all under one roof! This time, it wasn't just the startups that pitched, but also the venture capitalists who took the stage. Each fund brings its unique approach, expertise, and financial backing to the table, ensuring that promising early-stage companies receive the support they need to thrive. With a focus on sectors such as clean energy, mobility, and health, these venture capital firms are reshaping the European startup ecosystem and empowering the next generation of entrepreneurs. Here are six European venture capital funds that you need to check out.
Climentum Capital
|

Catalytic investments for climate tech

Climentum Capital was founded in 2022 to accelerate the process of achieving carbon neutrality in Europe. The new European Climate Tech fund has headquarters in Copenhagen, Stockholm and Berlin and intends to invest around 150 million € in early-stage technology companies that reduce Co2 emissions. A total of 25 startups across Europe are to be invested in over the next few years. The average ticket size is expected to be between one and five million €, with investments in the late seed to series A phase. The fund is one of the first European VC funds with a dual financing model, based on both ambitious financial and climate policy targets.
Matterwave Ventures
|

Backing the future of European industry

Matterwave Ventures is an early stage venture capital firm based in Munich that has specialized in Deep Tech innovations with industrial applications for many years and actively invests across Europe. At the beginning of 2023, Matterwave Ventures launched the first closing of its new fund "Matterwave Industrial Technologies II" and already raised over 75 million euros. The capital from the fund is to be invested in 20 to 25 companies across Europe over the next few years. Initially, each company will receive 1 to 4 million euros, and in further investment rounds up to 10 million euros. Focus will be on sustainability, resource efficiency and climate tech.
Realyze Ventures
|
investing
in
startups
that
drive
transition
Real Estate, responsible for 40% of global CO2 emissions, presents a significant challenge in achieving the EU Goals 2030. The potential for energy savings in both existing and new buildings ranges from 50% to 90%. To address this pressing need for sustainability, technology and innovation play a crucial role. That's why Realyze Ventures actively seeks out the brightest European founders who are developing visionary solutions to revolutionize the real estate and construction industry. Planned are investments with ticket sizes of 0.5 to 4.0 million €.
Rethink Ventures | Shaping the future of mobility and Logistics

Rethink Ventures launched in March 2023 a 50 million € fund investing into the next generation of startups leading the transformation towards a clean, safe and digital future of mobility and logistics. The first fund generation focuses on Seed to Series A investments across Europe, with focus on innovators in the mobility, automotive and logistics sectors. Rethink Ventures is committed to driving positive impact and sustainability, and is regulated as an SFDR article 8 fund. To ensure responsible investment practices, the firm has developed a proprietary sustainability framework to assess the impact potential of every investment early on in the investment process and continuously report the impact of the combined portfolio to the funds' investors.
New Renaissance Ventures | the first dedicated venture fund for tech startups in the cultural and creative industries

New Renaissance Ventures is a dedicated 20 million € brand-new tech fund for the cultural and creative industries by Severin Zugmayer. At the HHL SpinLab Investors Day, it was the first time that he pitched the fund in front of an audience. With a focus on Europe, the fund is supporting and empowering startups in the sub-verticals of visual arts, performing arts, new media, fashion, and collectibles. New Renaissance Ventures offers funding opportunities ranging from 100,000 € to 1 million €.
Smart Infrastructure Ventures | Innovating for a Smarter Future

Smart Infrastructure Ventures is an early-stage fund in East Germany investing in German software-based startups focussing on Energy, PropTech, Smart City, Security and Health. The financial backers are the Leipzig-based energy company VNG and the Sächsische Aufbaubank, as well as companies and business angels. Startups benefit most of the hands-on approach and extensive network. Among other companies, the early-stage fund has invested in four SpinLab startups, including the health startup mementor, which was acquired last year by the U.S. company ResMed.