The benefits of attending startup events for founders and their growing teams are countless: from meeting investors, leaders in your industry, listening to inspiring talks and of course connecting and learning from other motivated entrepreneurs. However, it is no secret that attending events takes a lot of time and energy, so making sure that the events you attend are worth your time is essential. To help you to navigate the vast amount of startup events, we have compiled the top 5 hottest startup events in the first half of 2023 that you don't want to miss!
EU-Startups Summit May
20th—21st April, Barcelona
If you are looking for an excuse to work away in Spain, then the EU-Startups Summit is a fantastic option. This week-long event in Barcelona connects founders, corporates, angel investors, VCs, and other startup-lovers from different branches. At this diverse event, you will have the opportunity to learn from experienced, successful founders, and other passionate speakers who share their expertise on an array of topics all centering around entrepreneurship and innovation. Last year, our Content Marketing Manager Linh Pham visited the event and recommends especially the workshops and talks on how startups can pitch a good story to journalists.
High-Tech Gründerfonds Family Day
9th-10th, Bonn
In May well-known investors, managers and international venture capitalists will come together in an exclusive two-day event in Bonn, Germany for the next edition of the High-Tech Gründersfonds (HTGF) Family Day. Every year this event brings together an impressive selection of speakers that cover topics of sustainability, diversity, and other trending topics in the world of venture capital. Through multiple networking opportunities including the chance to book 1:1 meetings with people you want to work with or learn more about, networking is made accessible for all and encourages lively conversations.
Tech.eu Summit 24th May, Belgium
The Tech.eu Summit has an interesting setup with two stages, 'Inspire' and 'Grow' where star speakers from companies like Google and speakers from all over the world share inspiring insights into their work. A quieter area for meetings and networking is available to make sure that participants have the chance to have longer, undisturbed conversations with intriguing people. With a key focus on sustainable growth and by giving platforms to entrepreneurs, policymakers and leaders in sustainable industries, you will leave the event feeling inspired, motivated and hopeful for the impact of sustainable innovation on future society.
Hinterland of Things 14th of June, Bielefeld
An insider tip! Whether you are a newcomer to the world of entrepreneurship and startups or have several years of experience you want to share with the community, Hinterland of Things is a great event to discuss, learn and connect with like-minded people. Since its beginnings in 2018 this event has impressively grown, bringing together over 1000 visitors and more than 100 VCs together by 2020. Although this event is based in Germany and has a strong focus on German innovation, startups from over ten different countries have been invited to showcase their ideas. With a focus on creating a sustainable future fueled by innovation, this startup event is sure to inspire founders at all stages.
HHL SpinLab Investors Day & MACHN Festival 28th-29th, Leipzig

Two of the most influential and impactful events for the region of central Germany have decided to join forces! In June this year during a two-day event, SpinLab, HHL Leipzig Graduate School of Management and MACHN will invite entrepreneurs, investors, partners, experts and startup-lovers to the mesmerizing old cotton mills in Leipzig "Spinnerei". The HHL SpinLab Investors Day will take place on June 28, 2023, showcasing the most promising startups of the SpinLab accelerator and bring together influential venture capitalists and business angels in the E-Health, SmartCity and Energy industries. On the following day visitors can visit workshops, talks, roundtables, and many other formats with successful founders, mentors, and creatives as a part of the MACHN Festival. Guests will have the chance to meet people from all walks of the startup industry in a unique festival atmosphere. To be sure not to miss any information leading up to the event, be sure to subscribe to the SpinLab newsletter. Can't wait to share more with you.
Free entry for SpinLab startups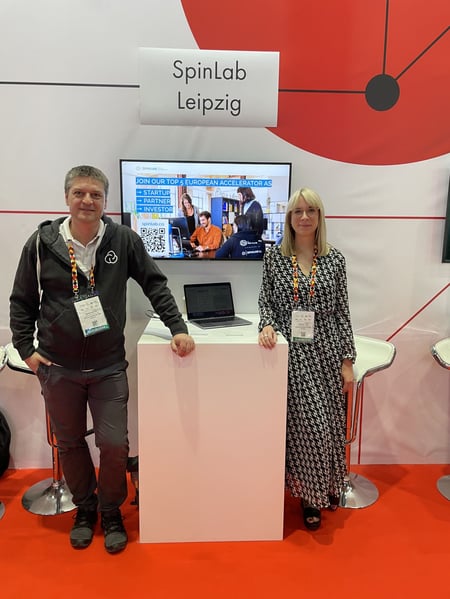 That's our selection for the first half of the year. We know that tickets to startup events can be pretty expensive. But if you are part of the SpinLab network, we can make it possible for you to attend such top events. As part of the Digital Hub Initiative, our team regularly travel the world together with our startups to showcase innovations from our ecosystem.