It is important to know that attending events requires more preparation than just booking your transportation and hotel. In order to get the most out of your time at a large startup event, you need a game plan. With the following tips, you can assure that you will leave the event feeling productive and connected to the people you met.
Identify your Goals for the Event
Maybe you want to meet potential partners, attract customers, or you are looking for new team members. All of these targets require different preparationx. Everything from the way you prepare your stand, approach people and the materials you bring with you, should be tailored to your specific needs and goals. If you are, for example, looking for new team members, then your team culture, work environment and employee perks are all things that need to be presented and brought up in conversations with people you meet. This is however less important if you are aiming to meet investors, where information such as the expertise of your team, future projects and current status of your company funding play a much more decisive role. In order to attract the kind of people you want to network with, think about what information is significant to them and actively look for opportunities to meet these kinds of people.

Digitalize your Networking
Gone are the days when your business card was the best way to connect with new contacts. Make sure that you have updated your LinkedIn profile since you are sure to be approached by people who want to connect with you over the platform. Having the app on your smartphone allows you to be flexible. You never know, maybe you will meet a meaningful contact while waiting in line for coffee! The LinkedIn app allows you to download a personalized QR code that you can save to your phone to simplify the networking process even more.
Most startup events will release an event app as the date of the event approaches. Here you can usually see the attendees, agenda and even chat with guests before the event. Use this opportunity to reach out to interesting people. By arranging a handful of meetings in advance, you are sure to connect with the right people. But do not fill your calendar with too many meetings so that you still have the opportunity to meet people spontaneously at the event.
Attend Evening and Side Events
The main event is where you will spend most of your time, however networking does not end when the halls close. Most events organize evening events that are open to all guests, where you can continue to mingle in a relaxed atmosphere with food and drinks. For instance, the Web Summit in Lisbon has an entire evening agenda called the "Night Summit" where you can continue to network in bars and other relaxed locations.
Become part of SpinLab Accelerator to get Special Benefits at Events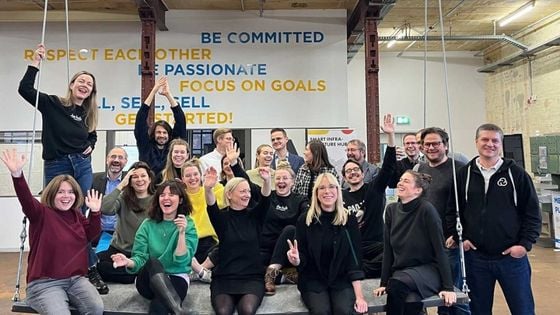 SpinLab is an active member of the Digital Hub Initiative, which give startups in their hubs the chance to join them for free at large, international and well-known events such as Web Summit in Lisbon, Slush in Helsikini or the GITEX GLOBAL in Dubai. Many of the elite startup events have high costs for exhibitors as well as visitors, making the participation for young entrepreneurs difficult to access. But being a part of the SpinLab community will make it possible for you to showcase your ideas at national and international platforms. On our application website you can check our open calls for our accelerator program.
Keep Track of your Contacts and Follow-Up after the Event
At startup events, you will definitely meet a lot of people. To ensure that you do not lose track of your new contacts, we recommend that you create an organization structure to sort your contacts. For some people, a classic excel table where you note down the name of the person you met, their company, position, and a comment about your conversation works perfectly. Others may like to send a follow-up message directly after connecting on LinkedIn.
After the event, you may be tempted to send a follow-up message to all the promising connections that you made. We recommend waiting a couple of days, since your contacts will certainly be bombarded with messages directly after the event and there is a chance that your note will get lost in the sea of messages. When preparing your follow-up message, think about what you aim to achieve by staying in contact with this person and tailor your message to fit your goal. Taking the time to personalize each message, even if just by inserting a personalized greeting or mentioning details from your conversation at the event, will have a positive impact on maintaining your contacts.

Now you are all set to go to your first startup event feeling prepared and ready to get the most out of your time there. Although there are many things to think about, remember that events are also meant to be a fun and memorable experience. To help you to navigate the vast amount of startup events, we have compiled the top 5 hottest startup events in the first half of 2023 that you don't want to miss!