In the last years we saw many speeches by top German politicians of different parties who agreed that Germany performs badly compared to the United States, Israel or China when it comes to Venture Capital, due to the identified lack of Later Stage investments.
This comes along statements by leading digital associations like Bitkom or studies by strategy consultants like Roland Berger. However, reality might be faster than policy or studies that mostly use historical data.
5 reasons why the focus on a supposed later stage venture capital gap might already be outdated
---
Recent political initiatives focused on later stage investments:
First of all, many of the recent political initiatives considered the previous criticism of a later stage gap. Moreover, the KfW "Tech Growth Fund Initiative" was started. On the one hand, the newly formed KfW Capital invests as fund of funds into venture capital funds with a minimum volume of 50 million Euro.
The same restriction is applied by European Investment Fund (EIF). But often those bigger funds tend to invest a little bit later than pre-seed or seed phases of startups. Secondly, with Coparion, KfW started its own venture capital arm with a volume of 225 million Euro, who can do seed but prefers slightly more mature startups with at least some sales. Thirdly, KfW started the instrument "Venture Tech Growth Financing", which is a venture debt offer with a yearly budget of 50 million Euro.
Talking about venture debt, this public offer came along with some private alternative offers from Silicon Valley Bank and Davidson Technology Growth Debt.
German Venture Capital funds grow and get accompanied by internationals:
Furthermore, many older German managing partnerships did a great job and used their good past performances combined with a growing general interest on alternative assets to raise newer and bigger funds.
Only within the last year did those new funds include Digital+ Partners (350 million Euro), DTCP Deutsche Telekom Capital Partners (350 million Euro), Robert Bosch Venture Capital (200 million Euro), Cherry Ventures (175 million Euro), Earlybird (175 million Euro), BlueYard Capital (105 million Euro), Visionaries Club (80 million Euro), Cavalry Ventures (75 million Euro), 42cap (50 million Euro), Apex Ventures (50 million Euro). Also international venture capitalists such as E.Ventures (355 million Euro), Creandum (265 million Euro), Hi Inov (120 million Euro), GP Bullhound (113 million Euro) and TargetGlobal (100 million Euro) announced their new funds with the remark to spend a significant share of them in Germany and hiring German key personnel.
With the announcement of HTGF III, the 316 million Euro private-public-partnership fund, who is among the most active seed investors in Europe, is allowed to invest more money (up to 3 mil. Euro) in older companies (up to 3 years). With bigger fund sizes. German venture capitalists can more easily participate in bigger late stage rounds, and in the upcoming months we will see this take effect.
Also increasing interest of international venture capitalists, as it can be seen on the financing rounds described below, will move the later stage market.
Only considering these few examples of the last year, there are more than two billion Euro available to fuel the growth of startups in the next years, not considering smaller new funds such as Smart Infrastructure Ventures.
More and more later stage funding rounds of startups
What would be a better indicator of a more mature later stage venture capital market than a noticeable growing number of later stage deals? In fact, the number of German unicorns has tripled in recent years.
Whoever thought the 460 million Euro invest of Japanese SoftBank into Auto1 Group in 2018 would be an absolute outlier for the next years? Only in 2019 did German later-stage startups perform incredibly well, e.g.
Flixmobility – 471 million Euro Series F
GetYourGuide – 433 million Euro Series E
N26 – 418 million Euro Series D
Adjust – 200 millio Euro Series E
Signavio – 157 million Euro Series C
Doctolib – 150 million Euro Series E
Omio (previous: GoEuro) – 132 million Euro Series D
Friday – 114 million Euro Venture Round
Wefox – 110 million Euro Series B
Raisin – 100+25 million Euro Series D
Sennder – 70+30 million Euro Series B/C
Infarm – 88 million Euro Series B
By the way, all these rounds had participation of international investors and, except Flixmobility, all of them are headquartered in Berlin. This is a good trend within the German startup scene, because with increasing international interest the flow of capital and people will continue and over time get a higher geographical spread.
Early Stage investment is not growing alike
In contrast to these promising numbers for later stage activities, some statistics indicate fewer interest in the early stage market. If you have a closer look at the BVK statistics ("The German Private Equity and Venture Capital Association"), you recognize a decreasing trend in the total number of venture capital deals over the last eight years, while the total volume raises continuously.
Also, the volume spend in seed stages was almost consistent with only one outlier in 2017.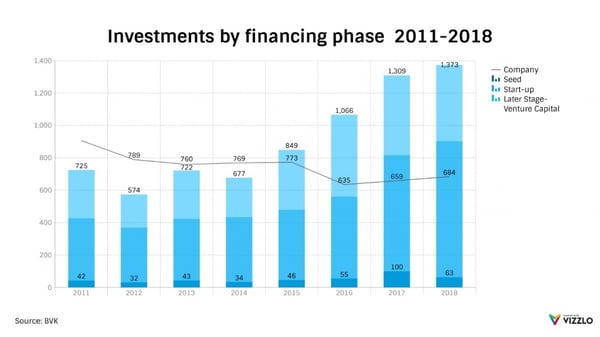 Although using different methods to generate those numbers and different data sources, the general long-term trend that deal volumes outperform the total number of deals can be seen in the EY Venture Capital Barometers as well.
A weaker indicator that at least not contradicts this is the constant significant decline of new entrepreneurs in general, as the KfW Gründermonitor reports.
If you now think that is a German or European trend, turn your eyes towards the United States and China. For both eco-systems statistics show a shrinking number of venture capital deals, while the invested volumes increase significantly. This is not the expression of unhealthy eco-systems, but it shows the growing maturity of the venture capital markets in general.
What does this mean? Why should we care?
So, statistics indicate that overall the (German) venture capital market is growing, but mostly in more mature stages. But what might be result if this trend continues?
Actually, Germany has a good analogy in his own demographical development. Everyone would agree that the most healthy (eco-)system would be a pyramid where a bigger number of infants empowers the more elderly.
Transferred in the startup world it means that we need a broad and growing number of good seed and early stage deals that can grow into more mature stages. While the German age structure is turning from a pyramid into an urn already, we have to make sure that this isn't happening to the startup age structure.
If that would happen, the venture capital market loses efficiency, because too many aligned funds would compete against mid-staged deals, increasing their values and cutting down fund interest rates.
So, in long term this could even weaken the asset class compared to alternative assets. Therefore, it is the interest of the whole industry to strengthen the seed stage pipeline.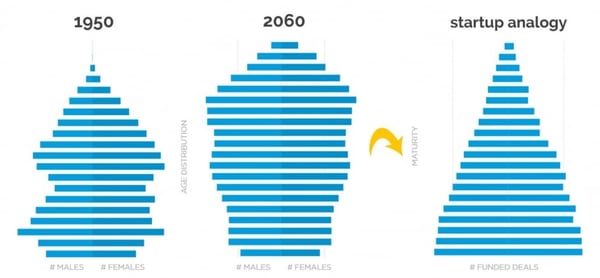 But honestly, the most frequent answer early stage founders receive from institutional investors is something like: "That is interesting, but too early for us. Come back later." But when there is a slight trend of growing venture capital funds to invest more but later, there should be someone to close the seed gap. This is necessary to provide a broad and good future deal-flow for funds. This could be several parties:
More smaller/first-time funds: usually, first time funds are smaller in size and therefore they invest less per deal. There could be political incentives to build first time funds, e.g. through tax incentives for Limited Partners (LPs), through networking events with potential LPs or by lowering restrictions of KfW and EIF.
Business Angels: usually business angels are active in very early stages, often even in idea stages and often quite regional. Seeing more and more exists, the number of business angels could increase. But business angels will most likely not fully fill the gap at all. Statistics tell us that for several years the average volume of US business angel rounds declined. In the meantime, the spread of Business Angels among Germany remains unequal with higher densities in Berlin or Munich than in most other locations. Again, better (tax) incentives (besides INVEST Zuschuss) may help to grow the total number of business angels, but also it needs more structured ways to approach them cross-regional.
Incubators/Accelerators: those institutions themselves or affiliated venture capital funds could provide typical seed capital with low six-digit sums. The charming aspect is that they can build trustworthy relationships to the founders, which benefits (pre-)seed decisions. However, currently the trend among accelerators is more on smaller equity-free grants due to the overcapacities in the German market.
Alternative forms of venture capital: in the last years crowdinvesting and crypto-investments (ICO – initial coin offering) became popular. Both instruments may be alternative to founders, but also include problems, e.g. in terms of follow-up investment opportunities, return rates or in the field of ICOs scam. Recently, one of the German market leaders, Companisto, decided to pivot into a professional investor network/angel club.
Public grants: given the rich availability of scholarships like EXIST Gründerstipendium or similar models on state level (e.g. SAB Technologiegründerstipendium in Saxony) many founders can skip smaller rounds. However, often startups are not fundable by institutional investors at the end of those scholarships, because they are still far away from market. So both putting more market-orientation into these programs and expanding those programs through follow-on instruments may be appropriate.
One last general remark: if we have an international view on the venture capital markets as such, we see North America achieved 120 billion Euro, Asia secured 84 billion Euro and Europe only 21 billion Euro, of which Germany accounts for 4.6 billion Euro.
Therefore, the German market has an overall gap in all stages from an international perspective. But within this German eco-system for sure there is not only a gap on later stages, but especially still real and growing in the seed segment, too.
I'm quite sure, that in some months or years the institutions mentioned at the very beginning will claim a need for more seed capital and better transfer from research into business.
(btw. I'm totally aware that the definitions of seed, early, later stage etc. are very blurry, but denomination is not too relevant at this point)
What do you think the German VC arena has to do to continue improving and to best keep up with international trends? Let us know in the comments below!