You have come across our Accelerator program, but you are not quite sure if it is suitable for your startup? We often receive questions from established startups asking whether they still fit into the program and what added value the participation has. In this article, we will show you 10 strong arguments why established startups should definitely apply for our free program. Let's go!
1. Get market entry in Germany
Germany is worldwide known for being a strong innovative economy of successful global players and SMEs (so-called German "Mittelstand"). Cooperation among private and public organizations, as well as big appetite for investment opportunities, has made Germany a highly interesting market for all types of business, and has strengthened its position in the startup scene. With SpinLab, frequently ranking among the top European accelerators, even mature startups get useful introductions to German corporate customers, universities, politics, investors and mentors. We also help to clarify legal and tax issues if foreign startups start to operate in Germany.
2. Win partners / customers and get revenue



With SpinLab's network and connections to more than 25 big corporations and business partners, we will introduce you to the ideal contacts and help you gain exposure to expand your target customer base. Building brand recognition among big companies can turn into an expensive, effort and time-consuming task if your startup doesn't have the appropriate referrals. Our partners use us to identify (usually paid) cooperation projects and it is our job to moderate them.
3. Strengthen your Brand and Political awareness in Germany as part of Digital Hub Initiative
Given that Leipzig is part of Germany's official Digital Hub Initiative, by being part of SpinLab and the Smart Infrastructure Hub Leipzig your venture benefits from a large chain of players in the innovation scene, including well-known corporates, research institutes and multiple SME's across the nation. We support you to find the perfect cooperation opportunities your company needs, while strengthening your brand and political awareness in Germany.
4. Internationalization Opportunities
New market discovery can drive your business to reach your revenue goals. SpinLab cooperates with international innovation hubs and ambassadors who facilitate companies' entry to international markets, support with information about local regulations, and increase chances of gaining valuable connections to potential customers.
5. Build up a team and run big teams
As you have probably realized, developed startups need to build a team which is fully committed to drive long-term success for the company. SpinLab helps you to improve your talent acquisition process by reaching your targeted job profiles. The first significant change process starts with more than 10 employees, which will require an improved leadership process. You need to adapt your leadership skills and priorities to get the best out of a large group of employees. At SpinLab, a whole model dedicated to build leadership skills can allow you to be equipped to lead teams of any size.
6. Use our digital learning as employee training course



Now that your startup is in a more mature stage and you have built a strong team, a key aspect to promote is to have trained employees with high quantity and quality performance. We frequently see a lack of budget for professional training of employees. With our digital learning tool including content with hundreds of thematic training videos, articles and e-books, your team can be trained to improve their knowledge and skills in topics such as financing, marketing, internationalization, sales, leadership, IT and HR.
7. Contacts to later stage investors and public funds
Maybe you have probably been able to raise the first funds for your startup, but as you know, after the round is before the next round. It is important to pay close attention to the competences and commitment that your future investors will bring to your company. SpinLab offers access to a wide range of well-known investors, not only in seed and early stages, but also to Pan-European later stage funds. Moreover, SpinLab has a strong track record when it comes to public funding and grants on European level (e.g., EIC Accelerator and Horizon2020/Horizon Europe projects and EIT), national and regional level as well as city level (Leipzig). Startups in our program are getting up to 15,000 € equity-free to cover your expenses.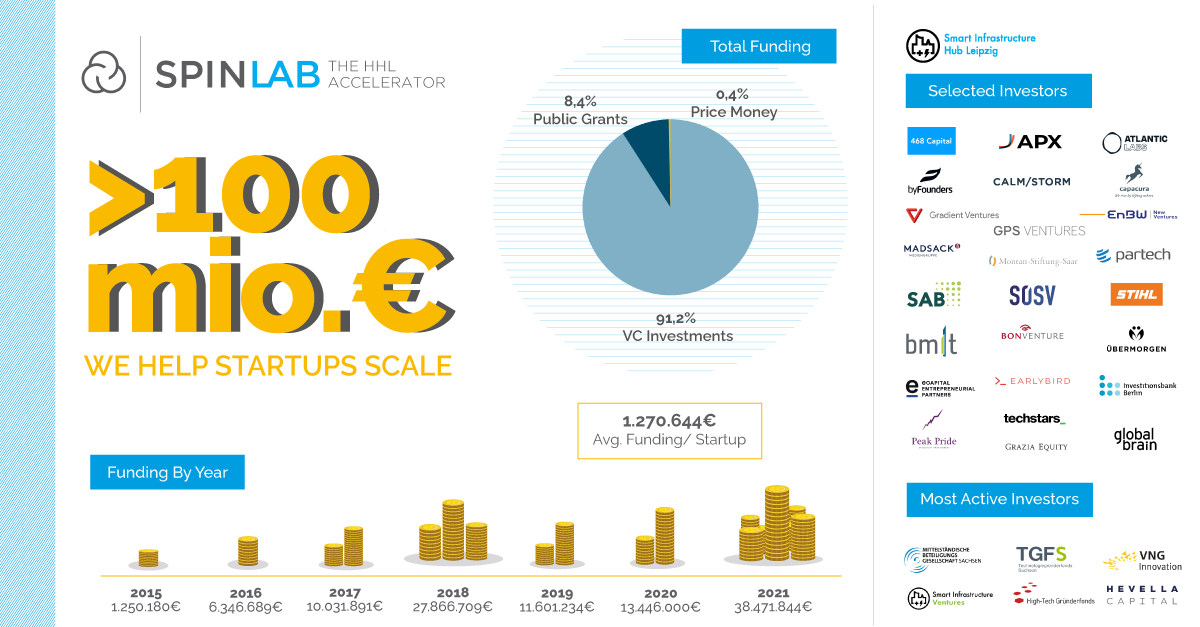 So far, our startups have raised more than 100 million euros in venture capital and grants from renowned national and international investors.
8. increase the survival rate
It is universally acknowledged that probabilities for startups to succeed are not too high. However, of all startups that have participated in SpinLab's program, 83% have successfully survived. In order to maintain your venture alive and scale it up even further, at SpinLab you strengthen the skills needed to overcome the challenges that could impact your business and customer base.
9. Cost saving
To maximize your startup's chances of success, it is essential to hold down costs. SpinLab supports entrepreneurs by providing infrastructure (incl. your potential sales office in Leipzig) and through our technology deals (such as Google Cloud, HubSpot etc.), multiple resources are available during and after the program to increase efficiencies and scale your business.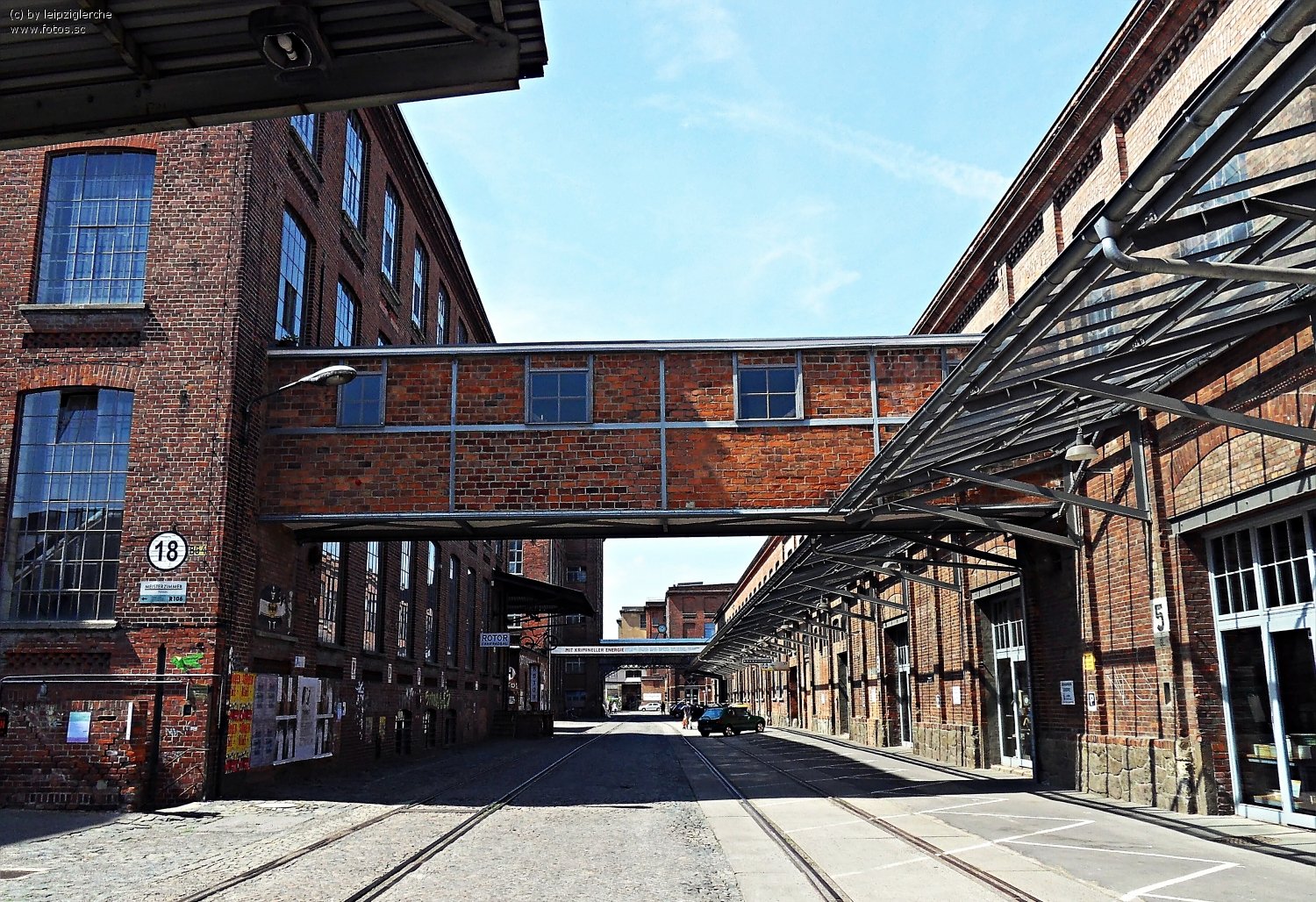 Startups are offered a workspace at the Leipziger Baumwollspinnerei, an internationally recognized location for art, culture and entrepreneurship.
10. Personalized mentorship
Mentorship is one of the keys for the ongoing development of your startup. Companies from SpinLab's program benefit from coaching, mentorship, and advice from experienced subject matter experts, who are consultants and entrepreneurs, many of whom have built successful companies and can provide effective guidance on each of the startup's stage. Our coaches and mentors grew startups from zero to hundreds of employees and successful exits and IPOs. More mature startups will receive an individual guidance to help you to manage growth instead of repeating things you already achieved (e.g., more focusing on leadership, process improvement, internationalization instead of refining your idea, seed financing etc.)
Follow us on our social media channels (LinkedIn, Instagram, Twitter and Facebook) and subscribe to our newsletter to not miss any news. On our website, you can check the dates for the next application deadline.
//Article written in collaboration with Andrea Escorcia MSc student from HHL Leipzig Graduate School of Management.