Last week, BonVenture Group announced its investment in Myo, a SpinLab Alumni startup focussing on digital communications for the benefit of senior citizens in nursing homes.
The Myosotis GmbH offers the first Software-as-a-Service solution for direct digital communication between caregivers, relatives and the ecosystem of service providers in nursing homes. The innovative app enables intuitive exchange through photos, videos, voice messages and video telephony. "We want to make the self-sacrificing and impressive nursing work visible and simplify administrative processes," says Jasper Böckel, founder and managing director of myo. This is the second major round of financing for the Digital Health Company founded in 2017. The nursing home operators Agaplesion and Carpe Diem as well as the venture capital funds Axel Springer, Plug & Play, Think Health, Mountain Partners and Round Hill Ventures, which have all been stakeholders already, invest another seven-digit amount in this round.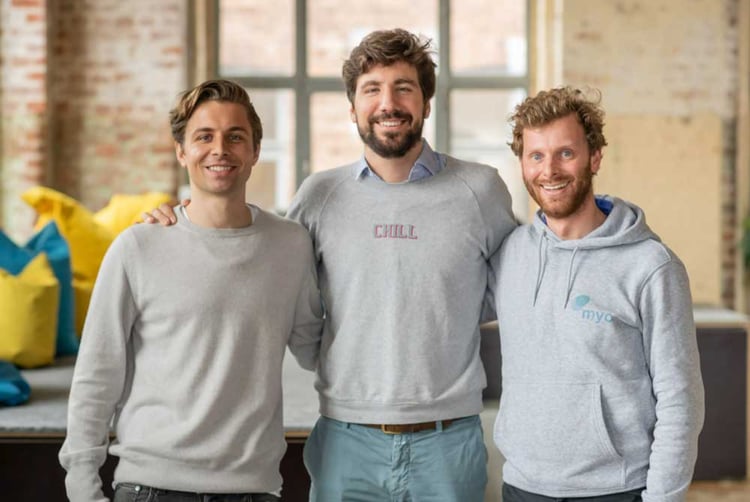 Jasper Böckel (Co-founder), Richard Böckel (Managing Director UK) and Felix Kuna (Co-founder)
"With myo's SaaS solution, care institutions no longer have to rely on faxes, letters or the telephone for the majority of their communications, but combine all of these and more in one digital application. With just one click, they can inform all relatives about, for example, new hygiene measures, let a single family participate in the life of the person in need of care and inform the doctor, the pharmacy or the external laundry service. The great work in the facilities thus becomes comprehensible, the employees receive the appreciation and recognition they deserve and save valuable time, which helps them to invest more time in the personal care of the senior citizens. We are very impressed with what the team has already achieved since its launch and are convinced that myo will become the market leader for digital communication in the care sector", explains BonVenture partner Angela Lawaldt. "We were convinced above all by the powerful founding team, the high effective range as well as the ease of use and extensive functionality of the digital solution from myo".
Growth plan: expansion of communication technology for inpatient care
With its multilingual SaaS solution, Myosotis GmbH already connects the lives of people in over 120 institutions and in 3 countries. The company has also managed to enter into cooperation with industry giants such as the laundry full-service provider CWS. The investment marks the beginning of the next growth phase: "We want to continue our rapid development during Corona and shift the focus from Product development to sales", explains Felix Kuna, founder and managing director of Myosotis GmbH. "Our closed and curated network gives us the possibility to map transactions between relatives and various service providers in the future. Patients in need of care should have the same variety of services as we are used to – even if they are no longer able to operate a telephone themselves."