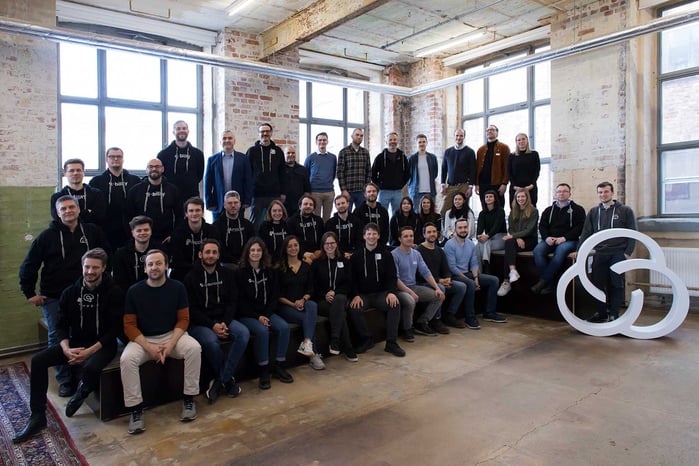 With more than 300 applications, the run for the 13th class was huge. Ten promising startups were welcomed to the historic area of the Baumwollspinnerei in early March. The range of business ideas of the new entrepreneurs is enormous: founders are releasing the first therapeutic app for dementia prevention, a physician from Chemnitz is developing an app against the underestimated and often undiscovered disease endometriosis, and with the help of a digital marketplace, the direct path to emission savings should save time-consuming processes. International startups from Poland and Austria are also part of the new class.
Tailor-made program with prominent support
By joining the program, startups receive funding of up to 15,000 euros, a comprehensive and tailored coaching and mentoring program, as well as access to a broad partner and investor network such as the own VC fund "Smart Infrastructure Ventures", which supports the startup teams with their industry expertise during and also after the program. Participants also have access to over 100 learning videos and knowledge articles with the Accelerator's network of experts on its own digital learning platform. Along with Laura Lewandowski, storytelling expert and "Top 30 under 30" journalist, other experts such as investor Frank Thelen, online marketing expert Florian Heinemann (Zalando, Trivago) and FlixBus founder Daniel Krause share their exclusive knowledge. Five successful exits have already resulted from the SpinLab program.
These are the ten new startups from SpinLab that you should definitely keep an eye on in 2022
One tenth of women suffer from endometriosis and often do not receive enough support. There are treatment options, but the disease often comes back and cannot be fully cured. An additional problem is that endometriosis is often diagnosed many years later - at a time when many women have already developed chronic pain. The Endo app provides affected women with a scientifically based tool for self-management of endometriosis.
Hustro is a data-driven software system built to help main contractors, developers and investors in construction and civil engineering industries use QHSE management as a competitive advantage. We believe that by standardizing and automating the analysis of site and project QHSE data and using it as a management tool we are able to help construction and real estate companies radically reduce the number of site incidents, simplify compliance efforts and increase the profitability of the projects.
IO-Dynamics develops a cloud-based energy and charging management for EVs that integrates live vehicle- and energy data to optimize charging processes. We provide a reliable, cost-efficient and sustainable use of electric cars. Our solution connects mobility with the electricity sector through digitalization to promote the transition to renewable energy, by charging the vehicle with the perfect amount of energy due at the desired time. The software is designed for company fleets and large charging infrastructures.
memodio is the first medical app for dementia prevention. In Germany, six million people suffer from Mild Cognitive Impairment (MCI), the preliminary form of dementia. For these people there is no approved therapy. At memodio, we are developing the first evidence-based therapy program for MCI based on cognitive training, exercise, nutritional advice, cardiovascular risk optimization, social participation and health literacy. With memodio, we aim to prevent the onset of manifest dementia and improve people's quality of life.
Prodlane is a digital workspace for industrial product management and development. It guides its users through the innovation process and creates an intelligent documentation that connects the created content directly with the underlying data. By bringing every stakeholder along the decision chain together in an easily navigable single source of truth for all product work and data, we increase transparency and enable truly data driven decision making while simultaneously reducing reporting effort.
Pyoneer is an AI-Powered Voice of the Customer Data Platform. The solution allows to collect customer feedback and text from any digital channel and automatically classifies it into themes and actionable insights. Product and service teams gain a central place with quantitative insights on customer needs to deliver relevant products faster or reduce churn with business process automation in real-time.
The SnoreFree app training has a well-founded, scientific background and is based on speech therapy exercises to treat snoring. Naturally, like oral yoga by training simple video-exercises, and no need of a painful surgery and expensive or uncomfortable devices. This unique and effective oral gym significantly improves the quality of sleep and life, strengthens the immune system due to healthy sleep, enhances the pronunciation and tightens facial muscles.
Problem: We are in the middle of the energy transition and have to rebuild the infrastructure. Everybody knows we will need a lot of storage capacity but so far very few know how to operate them efficiently. Solution: Our software is an autopilot for energy storage that optimizes the storage in combination with renewable energy for different applications, users and markets. This helps operators to respond flexibly to market dynamics and facilitate the integration of renewable energies.
Switchboard is a digital marketplace where energy-related data and skills are curated, offered, consumed and paid for in a standardized way. In doing that Switchboard can lower entry barriers in order to expand existing offers or enable completely new business models.
CO2 trading in the transport sector, GHG quota for short, is organized offline today. This brings many disadvantages: Tedious, time-consuming negotiations on non-transparent prices characterize the business. Climate protection cannot work like this. We are changing that. q-bility connects buyers and sellers in the GHG quota sector efficiently and at eye level. Our B2B GHG quota trading is fully digital via our online marketplace. The focus is on price transparency, security and reliability.
Click here for the press release
A high resolution photo of the new SpinLab class can be downloaded here.