Swiss utility Landis+Gyr has acquired 100% of the shares in our class 2 alumni startup Rhebo for a low double-digit million sum. Landis+Gyr announced this in a press release.
Million EXIT for IT startup Rhebo from Leipzig.
The Leipzig-based startup aims to ensure cybersecurity and stability of OT and IoT infrastructure in the industrial, energy and water sectors. To do so, Rhebo uses an innovative technology that enables real-time detection of cybersecurity threats and other anomalies in network control systems.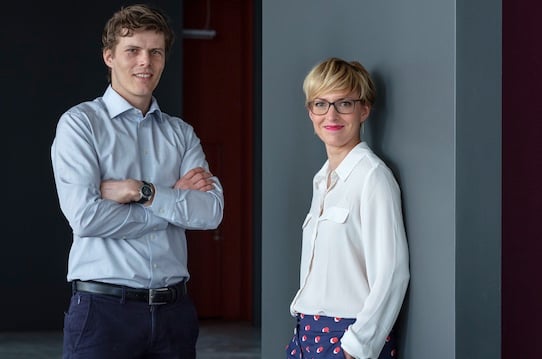 Rhebo managing directors Klaus Mochalski and Kristin Pressler are pleased with the acquisition. Photo: PR/Christoph Busse for Rhebo

From Landis+Gyr, the press release on Rhebo's EXIT states:"This enables utilities and other customers to respond immediately to cybersecurity threats. Utilities are increasingly deploying OT cybersecurity protection in their distribution networks. Rhebo's sophisticated and efficient technology is ideally positioned to address this need."
Klaus Mochalski, co-founder and CEO of Rhebo said: "We are excited to become part of the Landis+Gyr family and as a management team we are looking forward to continuing the development of the Rhebo business. We see unique opportunities to combine Rhebo's innovative cybersecurity and anomaly detection solutions with Landis+Gyr's leading portfolio and access to critical infrastructure customers."