The partnership contract between the Leipzig Graduate School of Management (HHL), SpinLab-The HHL Accelerator and SachsenEnergie was signed yesterday as part of the East German Energy Forum. The collaboration provides for SachsenEnergie to get into strategic exchange with relevant startups over SpinLab-The HHL Accelerator. In addition, SachsenEnergie will advise the startups on the implementation of promising innovation projects. For the SpinLab startups, the partnership is highly valuable in optimizing their promising business idea for major customers and gaining access to the target market.
"By collaborating with SachsenEnergie, our startups get a strong partner in the area of Dresden and can learn even more from experts in the energy industry and realise projects. I am pleased that with Dresden and Leipzig we are thus covering the two largest cities in eastern Germany after Berlin," explains Eric Weber, CEO of SpinLab.
Stefan Anlauf, Head of Corporate Development SachsenEnergie comments: "Future-oriented changes due to trends such as digitalization, decentralization and decarbonization require the development of new services and high agility for us as an energy service provider and grid operator. The partnership with SpinLab -The HHL Accelerator means a combination of the best of both worlds for SachsenEnergie: As a broad-based regional utility, we bring knowledge and expertise and profit from direct contact with upcoming startups. Exchange and knowledge transfer drive innovation in the areas that are central to us throughout the home region and ensure sustainable development."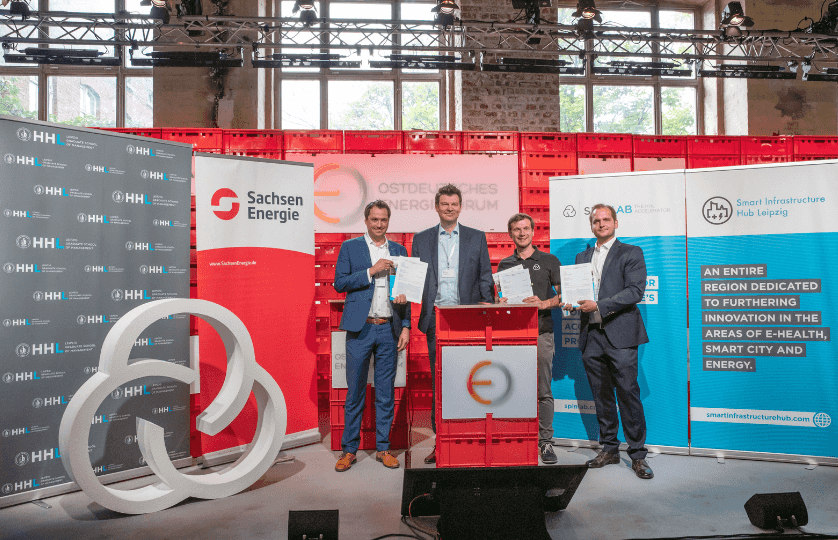 The official partnership contract was signed by representatives of SachsenEnergie, SpinLab -The HHL Accelerator and the Leipzig Graduate School of Management (HHL) during the East German Energy Forum at the Leipzig Cotton Mill. From left to right: Stefan Anlauf (Head of Corporate Development SachsenEnergie), Christian Büchner (Head of IT SachsenEnergie), Eric Weber (CEO SpinLab), Prof. Dr. Alexander Lahmann,(HHL). © SachsenEnergie / Lutz Weidler
Prof. Dr. Alexander Lahmann, Leipzig Graduate School of Management (HHL) adds: "In order to make founders in the region strong, to drive digitization and innovation through expertise, you need competent partners like SachsenEnergie. We are very delighted about this new partnership."
About SpinLab - The HHL Accelerator
The start-up accelerator supports entrepreneurial and innovative teams that want to grow sustainably and successfully scale their business model. With a strong hands-on mentality and a lot of passion, the SpinLab team works to ensure that promising young companies receive all the necessary resources as well as plenty of professional support for long-term success in the market. And the success proves the multiple award-winning accelerator right: numerous supported startups from Germany and abroad, hundreds of newly created jobs and more than 110 million euros of invested venture capital by nationally as well as internationally renowned investors.
About HHL Leipzig Graduate School of Management
HHL Leipzig Graduate School of Management is a university-level institution and ranks amongst the leading international business schools. The goal of the oldest business school in German-speaking Europe is to educate entrepreneurial, responsible and effective business leaders. HHL stands out for its excellent teaching, it's clear research focus, its effective knowledge transfer into practice as well as its outstanding student services. The Financial Times ranked HHL's full-time M.Sc. Program No. 27 worldwide as well as #5 for graduates' salaries worldwide and #1 in Germany. It finished ahead of a large number of well-known international universities and remains in the top 3 worldwide among the boutique business schools with less than a thousand students. Over the last few decades, HHL has produced more than 300 startup businesses.
SachsenEnergie was formed from the fusion of DREWAG and ENSO in 2021 and is the largest municipal utility company in eastern Germany. The new company supplies some 600,000 customers dependably with energy, water, energy-related services and modern infrastructure. In the coming ten years SachsenEnergie plans to invest over €2 billion in its supply infrastructure. As a company group with a strong regional focus, SachsenEnergie is breaking new paths in terms of modern infrastructure, sustainability and security of supply. SachsenEnergie is the leading regional performer in the energy industry, with modern, market-oriented solutions for electricity, gas, heat, water, telecommunications, electromobility and smart services designed to ensure the highest quality of life in Dresden and eastern Saxony. With over 3300 employees, SachsenEnergie is the largest energy hub in the heart of Saxony.