From July 24 to 28, 2023, HHL DIGITAL SPACE and SpinLab - The HHL Accelerator is joining forces to support diverse startups in their early stages with a tailored program to evolve their business idea. The goal of the "Leipzig Summer School for Diverse Startups" is to empower underrepresented founders, break down barriers to success and create an inclusive startup ecosystem. The program is supported by the City of Leipzig, Sächsische Aufbaubank, EDIH Saxony, Technologiegründerfonds Sachsen, S-Beteiligungen and Germany Trade and Invest.
Central German, as well as international teams, come together in Leipzig to strengthen their entrepreneurial skills. The professional, free program offers participants interactive workshops on important topics such as sales, marketing, and financing, led by experienced mentors, investors, and coaches. The city of Leipzig supports the program as a cooperation partner and will present the "Digital Award," endowed with 2,000 euros, for the second time during the Summer School closing event on July 27 in the new city hall of Leipzig.
Patron Burkhard Jung, Mayor of the City of Leipzig:
"Openness brings progress and development; in this context, openness is not limited to technical or entrepreneurial aspects. Social and intellectual openness are also in demand. That is what the Digital Award and Summer School for Diverse Startups stands for. This is exactly what we need in our city."
SpinLab and HHL DIGITAL SPACE create an inclusive environment for diverse startups in Saxony
Eric Weber, CEO of SpinLab - The HHL Accelerator, summarizes:
"The Leipzig Summer School for Diverse Startups helps to promote diversity and innovation in the startup scene. The Leipzig startup ecosystem, with its broad network and diverse initiatives, offers valuable support to aspiring founders from all over Europe to successfully implement their ideas in Saxony."
Francie Lange, Incubation Manager of HHL DIGITAL SPACE:
"The Summer School for diverse startups will take place for the third time in 2023. Diversity is in focus with the goal of promoting underrepresented founders and breaking down barriers. It also strengthens the inclusive and entrepreneurial environment in Leipzig. The incubator HHL DIGITAL SPACE and the accelerator SpinLab support the startups in terms of content. In addition, we are very pleased that mayor Burkhard Jung is taking over the patronage of the Summer School."
Introducing The Summer School For Diverse Startups Batch #3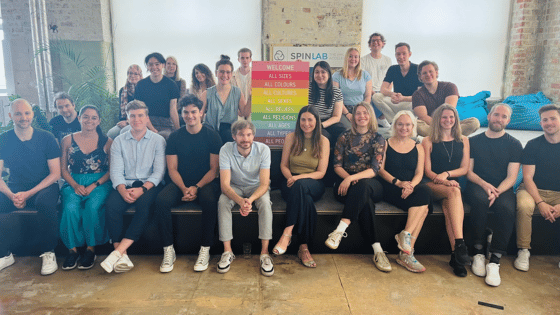 BRbase
BRbase equips committees, such as works councils, homeowner associations, or shareholder meetings, with a solution tailored to their specific legal needs. Our innovative software replicates the entire committee process in a legally compliant manner, augmented by the power of artificial intelligence. As a result, committees benefit from significant time and cost savings, making their operations more efficient and effective.
Bitteiler
bitteiler is a deep tech spin off startup from TU Dresden, that provides an AI-aided compression software that reduces the staggering amount of data IoT sensors generate, while preserving information for cheaper and sustainable connectivity and storage.
EXODITI
Exoditi is the first IoT-based fragrance collection, with an NFC chip inside each bottle that links to our app, allowing you to liberate your senses and enhance your mind. Key in-app features include an AI assistant to help you develop your mind using your five senses, an AR scent cam, and memory capture. The issue we discovered is that popular fragrance products lack personalization and provide a basic off -the-shelf experience. Wellness is not valued, and consumer interest in scent is antiquated. That's why we created Exoditi to incorporate technology and core ingredients which have powerful associative capabilities that can change your mood and enhance your overall health.
EMPYRIO
Empyrio has created a small and efficient system that can dry and burn wet organic waste like sewage sludge. This system doesn't need extra energy or materials from outside sources. It recycles the sludge itself by using the heat generated during the burning process to dry and burn more sludge. This makes the process self-sustaining and keeps it going in a cycle.
EINA CIRCLE
EINA Circle is a FemTech startup revolutionizing women's hormonal health with evidence-based content, psychology for sustainable behavior change, and AI-powered personalization. We empower women with knowledge and tools to optimize their well-being.
LOKK
LOKK is a modeling and simulation tool working as a sharing platform with crowdsourcing capabilities that brings together open data, public administrations, planners and citizens for more transparent urban development.
RUDEL
We are revolutionizing the boundaries of digital education for people with dogs. In doing so, we are eschewing outdated general solutions and establishing ourselves as pioneers of personalized, modern dog care through innovative solutions. We tackle this challenge with AI-supported, highly individualized learning, such as the AI "Dog Emotion Check" chatbot, or video analysis. Rudel's approach provides immersive experiences through interactive learning journeys and delivers high-quality education backed by verified expertise from science and practice.
NANTII
NantIi is the HelloFresh of children's toys. Children are spending increasingly more time in front of screens, and parents struggle with work-life balance. Nantii is here to help. We offer modular subscription boxes that only require a one-time planning effort while providing structured quality time for many weeks. Nantii teaches practical (offline) skills while engaging parents and children in fun bonding activities together.
Pornbetter
PORN BETTER is the first matching platform for ethical porn in all genres. We review and rate feminist, diverse and inclusive porn sites according to transparent criteria. In addition, we provide porn and sex education, as well as insights from experts in the sex ed and porn industry.
Timberis
Timberis is about to revolutionize the construction industry by operating highly automated factories that manufacture advanced wood-hybrid modules for residential buildings and offices. These modules can be seamlessly assembled on-site, dramatically reducing construction time and costs. With a strong commitment to sustainability, Timberis utilizes renewable materials, such as wood, to create eco-friendly housing solutions. The modular approach allows for versatile designs and adaptability to various housing needs.
Follow us on LinkedIn for the latest updates from the new summer school batch #3 startups in Leipzig.