SpinLab - The HHL Accelerator, one of Europe's leading startup programs, today announced ten of the most promising startups in the fields of energy, health, and smart city. The selected startups have distinguished themselves with their innovative business models and great market potential, and will now be supported by SpinLab through a six-month program. Startups from Poland, France, New Zealand, and Germany are represented. The innovative solutions range from a digital app for food intolerance to tactile, pressure-sensitive skin for robot grippers and digital twins of power grids that are designed to support the energy transition.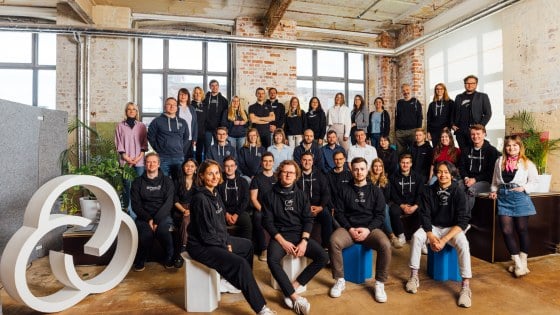 All new SpinLab startups at a glance
GLAICE
GLAICE provides people with diabetes with the foundation for autonomous and informed action to achieve healthy blood sugar levels in daily life. Our algorithm analyzes their health, lifestyle, and blood sugar data and provides actionable information and tailored advice in a user-friendly digital companion app.
Granular Energy
Granular Energy is a climate-tech startup that is developing a platform to support electricity consumers, generators, and suppliers in the transition to 24/7 clean energy. Our software-as-a-service platform provides our customers with hourly energy certificates, which indicate how much electricity is being produced in each hour, and enables them to trade clean energy with each other.
meal&heal
meal&heal is the first app that can detect intolerances in a targeted way and provide individual nutrition guidance. Currently, only about 10% of potentially intolerant ingredients can be medically detected, which means that it takes an average of 8 years for those affected to receive a diagnosis. Using an AI-based trigger management system that relates lifestyle factors to symptoms and thus provides the only way to identify individual factors as triggers.
Nadar
Nadar offers an intelligent way to analyze forest climate projects and brings much-needed transparency and trust to the voluntary CO2 market. The monitoring platform is based 100% on satellite images and artificial intelligence.
Neology
To maximize the potential of ammonia as a future carbon-free energy source, Neology is developing a thermochemical ammonia cracking plant that converts ammonia into hydrogen as a fuel for fuel cells.
PowerON
The Dresden-based startup PowerON wants to break down the barriers between humans and machines. To this end, PowerON is developing tactile, pressure-sensitive skin for robot grippers so that they can safely and accurately grip objects and recognize surfaces through tactile gestures. We are also working on artificial muscles to enable bio-inspired mobility for the robots of the future.
retoflow
retoflow is an innovative technology startup that supports the energy transition with digital twins of power grids. Our user-friendly, scalable web platform models the network with all its electrical components as a digital model. Using innovative methods such as AI algorithms or heuristics, we then support the innovative planning of decarbonized energy networks. In addition to power grid planning, retoflow also offers cross-sector planning of electricity, gas, and heat networks.
Statotest
The complex monitoring system Statotest represents a modern, unique technology that measures and records chosen physical values around the clock and in the long term. Based on this data, the condition can be monitored. We offer complex services to our customers, from the design of monitoring to data analysis, reporting, change warning, and evaluation of the development. We can monitor large construction sites, bridges, energy devices, retaining walls, geologically unstable areas, towers, and various industrial facilities.
vimum
Due to the inefficient supply situation for pregnant women, especially the inadequate availability of midwives and gynecologists, there is a high demand for digital support that is medically sound and provides clear benefits. vimum has developed online courses, tutorials, telemedicine support, and a companion app that accompanies pregnant women throughout their entire pregnancy. We pursue a B2B2C strategy, meaning our products are provided to policyholders by health insurance companies or prescribed by doctors.
Zentur.io
Zentur.io is a software-as-a-service provider that supports district heating network operators in digitizing their networks and transforming to renewable energy. Our mission is to enable the district heating transition.
Follow us on LinkedIn for the latest updates from the new startup class in Leipzig.