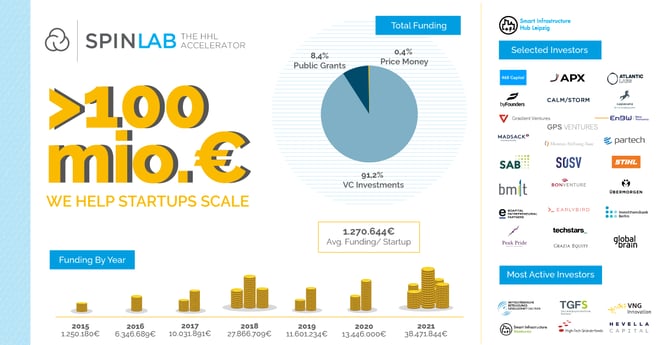 We are happy to announce that we recently cracked the €100 million mark! So far, our startups have raised more than 100 million euros in venture capital and grants from renowned national and international investors. The average funding per SpinLab alumni amounts to 1.270.644 euros. Another reason to celebrate: In the last five years, capital has increased more than thirty times. In 2015, the funding amounted to 1.25 million euros. Currently, we stand at approximately 38.5 million Euro mid of the year 2021. With the help of VC investments, public grants, and price money, our startups have access to a large pool of capital to build quality products and teams. We are proud of all the founders we have accompanied to this point and thank all investors and partners for the years of great cooperation.
This is our track record so far: 85 supported startups from Germany and abroad, 37 company relocations, more than 750 newly created jobs, and more than 100 million euros of invested capital.
Tip for reading #1: This is our startup portfolio
Tip for reading #2: Class 12 has finally kicked off in real life again
Do you want more information about SpinLab and our award-winning program? Send us a message - we look forward to hearing from you.