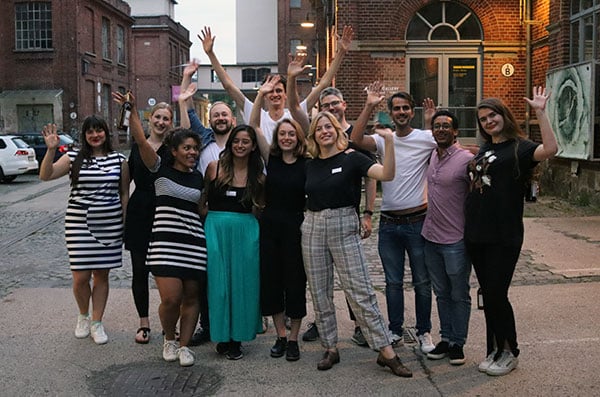 The first SpinLab Summer School for diverse Startups is over and we are still overwhelmed by all the impressions. From the 12th to the 16th of July, six diverse startups from different industries (meet them further down in the article) completed an intensive week covering the topics of financing, marketing, sales, HR and leadership. The mentoring program was fully packed with different workshops, professional pitch training and individual sessions with leading experts from practice. The highlight of the week was on Thursday evening, when the founders presented their business ideas to the public. Again, congratulations to Mentessa and Yance Sports for winning the pitch event! We will see both teams additionally at the selection days, where they will have the chance to become part of SpinLab's main program.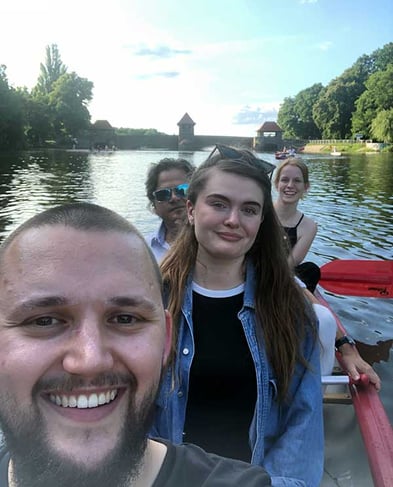 Leisure time fun was not neglected either: The participants of the Summer School and SpinLab member canoeing on the Karl Heine Canal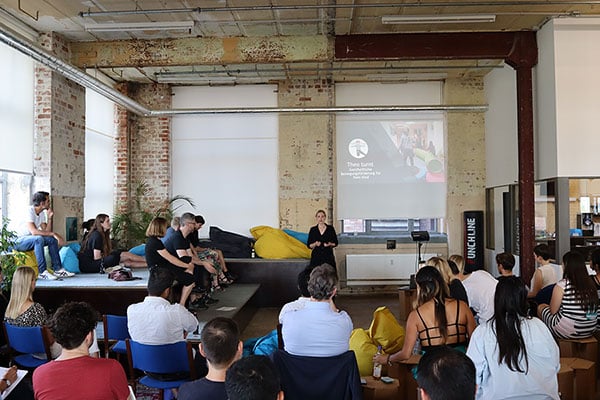 Highlight of the SpinLab Summer School for diverse Startups: the startups pitched in front of a public audience
The public pitch as well as the "Long Time No See Startup Community Meetup'' afterwards outside on the Spinnerei area was the perfect chance to meet other interesting people and to network. Later that evening, our legendary community party took place. It was nice to see everyone face to face again while having a good time and enjoying the presence of all. At the joint closing breakfast, everyone agreed that it had been a successful week. Therefore, we would like to take this opportunity to thank our sponsors Rhebo and Smart Infrastructure Ventures ('SIVentures') who helped to make our first Summer School come to life this year. Also, this week would not have been possible without our great mentors! We are grateful for all the support we have received and looking forward to the SpinLab Summer School for diverse Startups in 2022.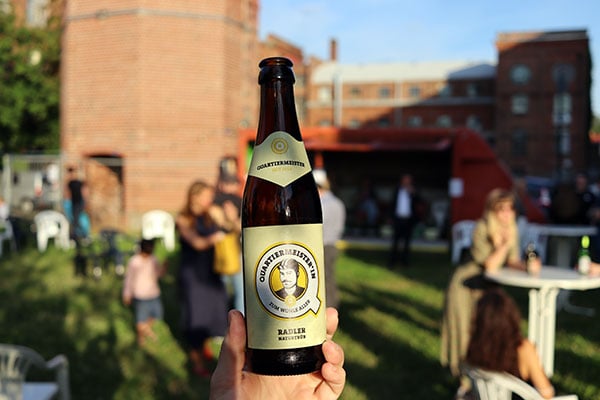 Ad:Thanks to Quartiermeister for the cool drinks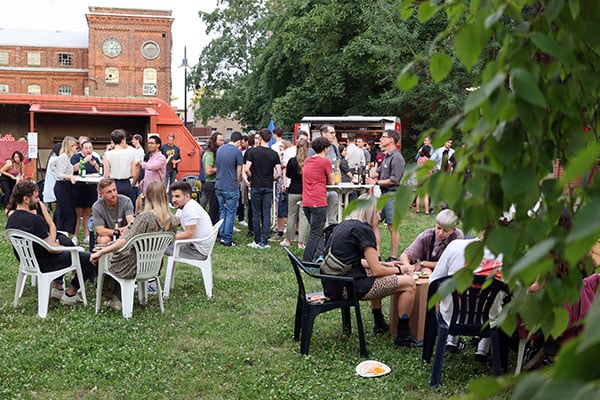 Networking on the site of the spinning mill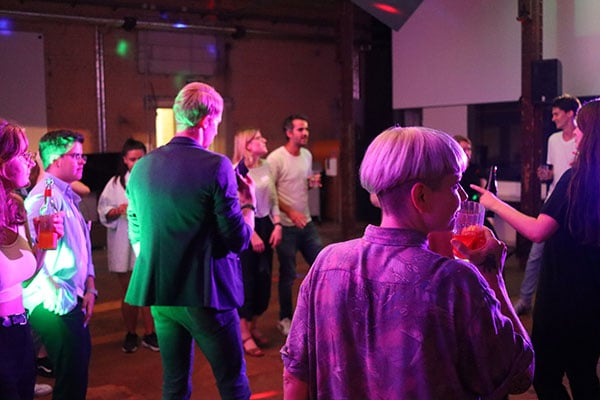 Our legendary community party closed the SpinLab Summer School for diverse Startups
Note: All participants and guests were fully vaccinated or tested negative during the time of the event. Furthermore we developed a multi level hygiene concept.
The future needs to be created from more than one perspective
Since 2015, SpinLab has successfully supported over 86 national and international startup teams on their way to the growth phase. In addition to our regular accelerator program, we offered a Summer School for diverse Startups for the first time.
We at SpinLab are convinced that diversity creates innovation and strengthens the startup ecosystem. That's why 2021, for the first time, we offered a Summer School specifically for diverse startups. Our goal is to empower diverse startup teams with growth ambitions and create an environment where all participants can grow and learn together. With a program tailored to their needs, we help to overcome potential hurdles of the startup world and connect the participants with the right people from our local startup ecosystem.
These are the participants of the SpinLab Summer School 2021
| | |
| --- | --- |
| | Mentessa is an innovative remote platform for targeted knowledge exchange in agile organizations and communities. Users can quickly and easily find suitable matches for 1:1 conversations, mentoring and networking based on skills and thus expand their knowledge, acquire new skills and start interdisciplinary projects. |
| | |
| --- | --- |
| | Theo Turnt offers an app with diverse and resource-oriented movement concepts for children aged 1-6 years. By combining the two essential living spaces of the child (daycare and home) Theo turnt interactively and sustainably supports a healthy motor development and creates a preventive measure against health restrictions in adolescence and adulthood. |
| | |
| --- | --- |
| | Hallo.City is the digital platform that helps internationals navigate Germany as a local by providing them with the information, products and services they need in their new city. |
The startup builds a platform to enable truly data driven product management. By using

Prodlane

, every company can build better products quicker.
| | |
| --- | --- |
| | The founders of Jupp are developing everyday solutions and digital support for people with dementia. In particular, the startup focuses on an interactive information offering with information on diagnosis, the course of the disease and the new challenges associated with it. |
| | |
| --- | --- |
| | Yance Sports is a social fitness platform for live classes with 2-way live-streaming for instant motivation, social engagement and real-time corrections. They bring human interaction to online fitness, help users build healthy habits from home with the right level of support and motivation. |
You want more information regarding our program for diverse startups? Contact us – we are looking forward to your message.