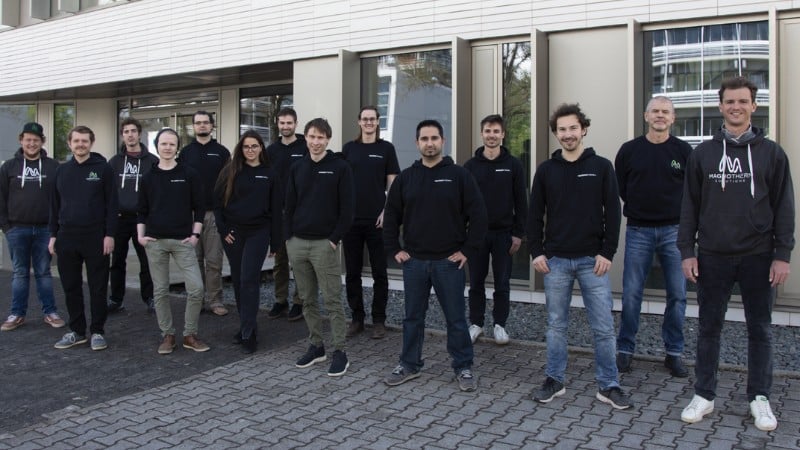 The German climate tech startup MAGNOTHERM, working on sustainable refrigeration technology, has just closed its seed funding round with an impressive €6.3 million. Funds will be used for the mass production of the world's first sustainable refrigerator, which already has a paying customer base. Extantia Capital led the round, with Hessen Kapital, Lauda Dr. R. WOBSER Beteiligungs-GmbH, and Revent also investing, along with four investors from the Better Ventures Angel Club. They're now planning to expand into the commercial refrigeration market, which is worth $37 billion.
MAGNOTHERM, a spin-off of Technical University of Darmstadt, uses the giant magnetocaloric effect of resource-efficient iron-based alloys in magnetic refrigeration. The technology makes it possible to build refrigeration and air conditioning systems that use up to 40% less electricity than gas-steam compressor systems, while using no climate-damaging refrigerants. The systems operate at very low working pressures, require less maintenance and are safer than alternative refrigerants. in 2020 MAGNOTHERM joined the SpinLab accelerator program.
Magnetocaloric Materials: The Key to Unlocking Efficient Hydrogen Storage
Hydrogen is a vital component in the transition towards a carbon-neutral society, with estimated global requirements set to increase fivefold by 2050. However, the process of storing hydrogen requires an enormous amount of energy. Approximately one-third of the energy content of hydrogen is lost during liquefaction, rendering the process uneconomical. To address this challenge, a team comprising Helmholtz-Zentrum Dresden-Rossendorf (HZDR), TU Darmstadt, and the startup MAGNOTHERM is collaborating on the Horizon Europe project HyLICAL, with a budget of approximately €5 million. The team aims to improve the technology for storing liquid hydrogen significantly, using magnetocaloric materials that change temperature in response to a magnetic field. This promising development has the potential to revolutionize hydrogen storage and advance the transition towards a sustainable future.